description

Embark on an enchanting journey to the mystical realm of Southern Tuscany's Maremma region with our "Mystical Tuscany: Pitigliano & Sovana Tour from Rome".
Far from the usual tourist trails, Maremma beckons with its captivating blend of open landscapes, rolling hills, rustic charm, and untamed wilderness. Immerse yourself in a land of cowboys, long-horned cattle, and Etruscan treasures, where fairytale medieval towns crown hilltops, overlooking lush valleys and steep ravines.
Away from the bustling tourist hubs, Maremma offers a serene escape, allowing you to savor the authentic essence of Tuscany. As an added bonus, this tour ventures into the border of Lazio, granting you a delightful taste of another province during your stay in Rome. Get ready to be captivated by the lesser-known, yet captivating wonders of Southern Tuscany.
PITIGLIANO AND SOVANA Tuscany Tour from Rome Prices:


For up to 4 Persons from Rome Hotel: 550 EUROS
For up to 6 Persons from Rome Hotel: 600 EUROS
For up to 8 Persons from Rome Hotel: 650 EUROS


* DATES on the Booking Form Calendar that are NOT Selectable, are NOT AVAILABLE.
This Tuscany Tour from Rome starts and ends at your hotel or accommodation in Rome.

Your personal Stefano Rome Tours English-Speaking Driver will whisk you away from your hotel at 8 AM, departing from Rome and traversing the picturesque landscapes of Lazio into the heart of Tuscany's Maremma region, where you'll encounter the enchanting hilltop towns of Pitigliano and Sovana. Your tour will conclude with your arrival back in Rome by approximately 5:30 PM.
These medieval gems hold a wealth of history and are steeped in Etruscan heritage. Remarkably, Sovana and Pitigliano stand as rare places of ancient Etruscan origin, boasting uninterrupted habitation since ancient times, making them truly fascinating destinations to explore.
PITIGLIANO - Maremma's Medieval Marvel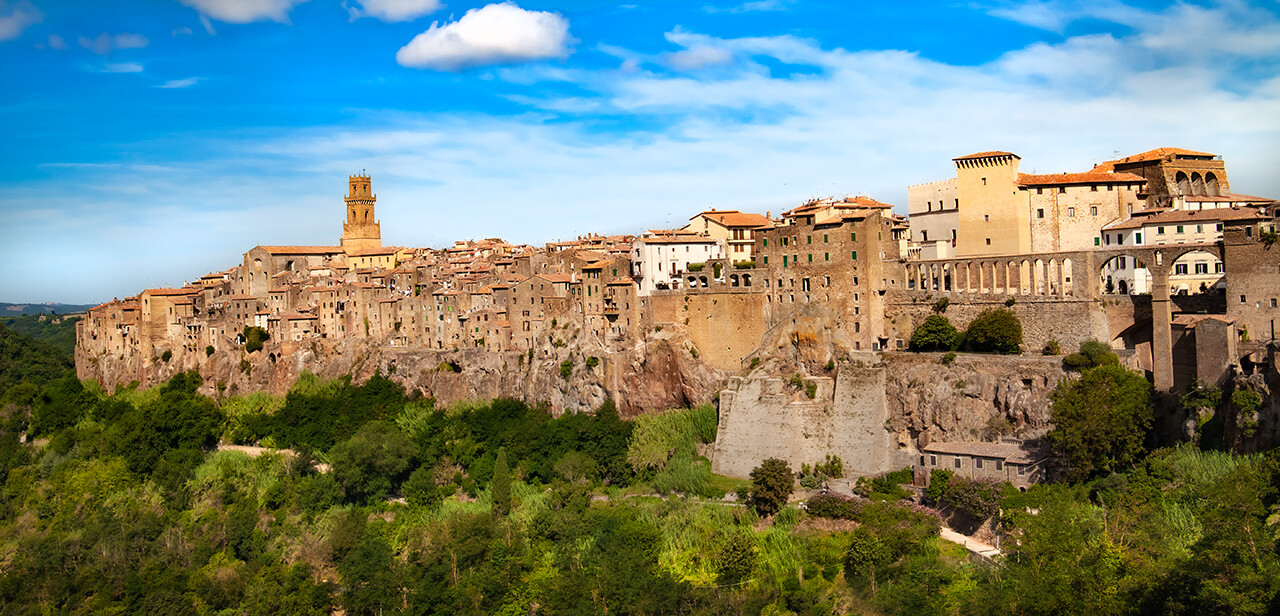 Nestled atop a majestic promontory, Pitigliano stands as an ancient town adorned with medieval volcanic stone buildings crowned by terracotta roofs, seemingly organically grown from the rocky cliffs they perch upon.

As you approach this captivating sight, crossing the bridge over the gorge, Pitigliano's allure unfolds before you, commanding admiration. Its rich heritage is a matter of immense pride for the locals, evident in the remnants of its prehistoric origins, the tombs, and caves that adorn the city walls.
The legacy of Roman colonization bestowed upon the town its name, Petilia Gens, or according to legend, a fusion of the names of its founders, Petilio and Celiano. Throughout the ages, Pitigliano flourished under the rule of the Aldobrandeschi, Orsini, and Medici families, leaving behind an impressive architectural legacy. The formidable Palazzo Orsini is now a museum, while the iconic Medici Aqueduct symbolizes the town's enduring spirit.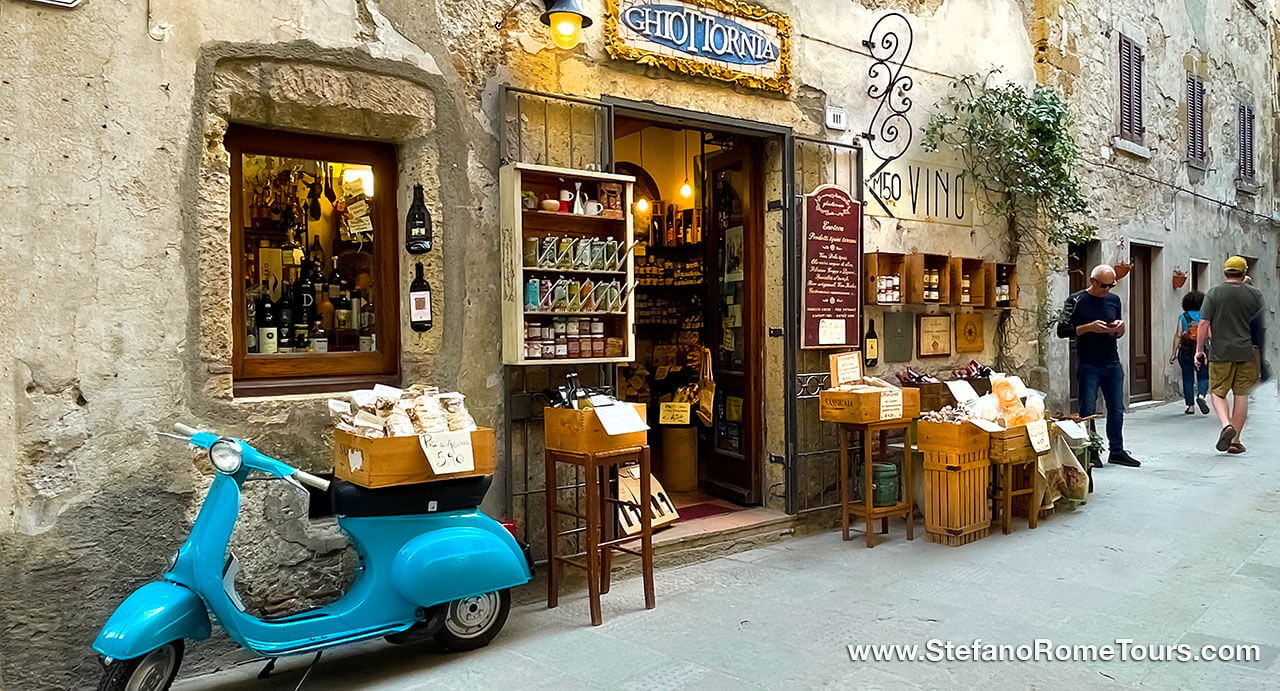 As you meander through the centuries-old medieval houses, quaint squares, and winding lanes designed for carts rather than automobiles, you'll be transported back to an era of lords, dukes, and counts, reliving the very streets they once trod upon. Pitigliano beckons with its timeless charm, inviting you to delve into the past and embrace its captivating history.
Pitigliano boasts excellent restaurants that serve delicious local dishes that you can enjoy with a glass of locally-produced wine for a welcome respite to your day.
Scroll down for more information on what to see and do in Pitigliano during your visit.


From here you will join your personal driver for a short drive to your next destination: Sovana.
SOVANA - Tuscany's Timeless Gem

Nestled within the embrace of medieval walls, Sovana's captivating history traces back to ancient times, enveloping visitors in a world steeped in mystery and wonder. From its earliest settlers in the Neolithic and Bronze Ages to its transformation into a Roman colony named Suana, the village boasts a rich heritage that resonates to this day.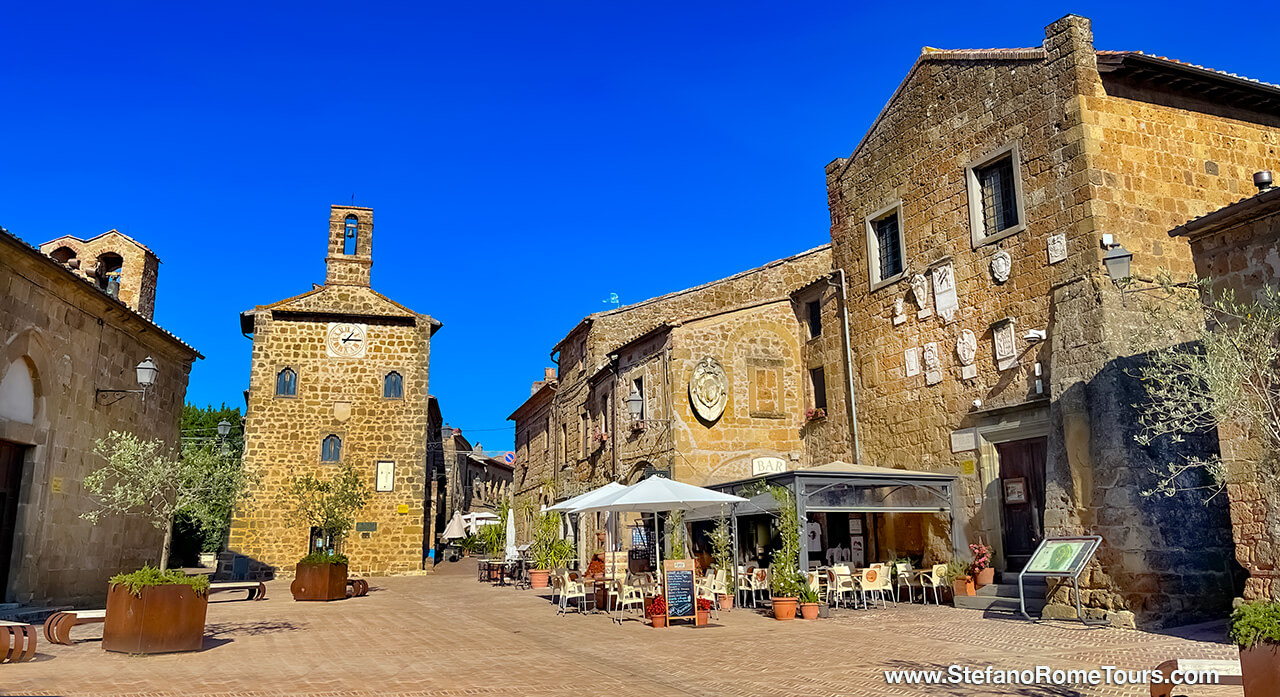 Stepping foot in Sovana is akin to stepping into the pages of a mesmerizing fairy tale set in the Middle Ages. Perched upon a mere half-mile tuffa spur, the town flourished as an important center during this era, serving as the local bishop's seat and under the rule of illustrious counts and lords, from the Aldobrandeschi to the Orsini and the Medici. Surviving the tests of time, wars, sackings, and even the depopulation caused by malaria, Sovana stands today as an exceptional and enchanting example of a medieval town.
The charming Piazza del Pretorio, celebrated as one of Italy's hundred most beautiful piazzas, captures the essence of Sovana's allure. The butterscotch hues of medieval buildings, resting on ancient 8th-century foundations, and the terracotta brick pavement, arranged in the traditional herringbone pattern, create a picturesque setting. Here, surrounding the charming square, you'll see the 8th-century church of Santa Maria, the Palazzetto dell'Archivio, the Loggia del Capitano, and the Palazzo del Pretorio.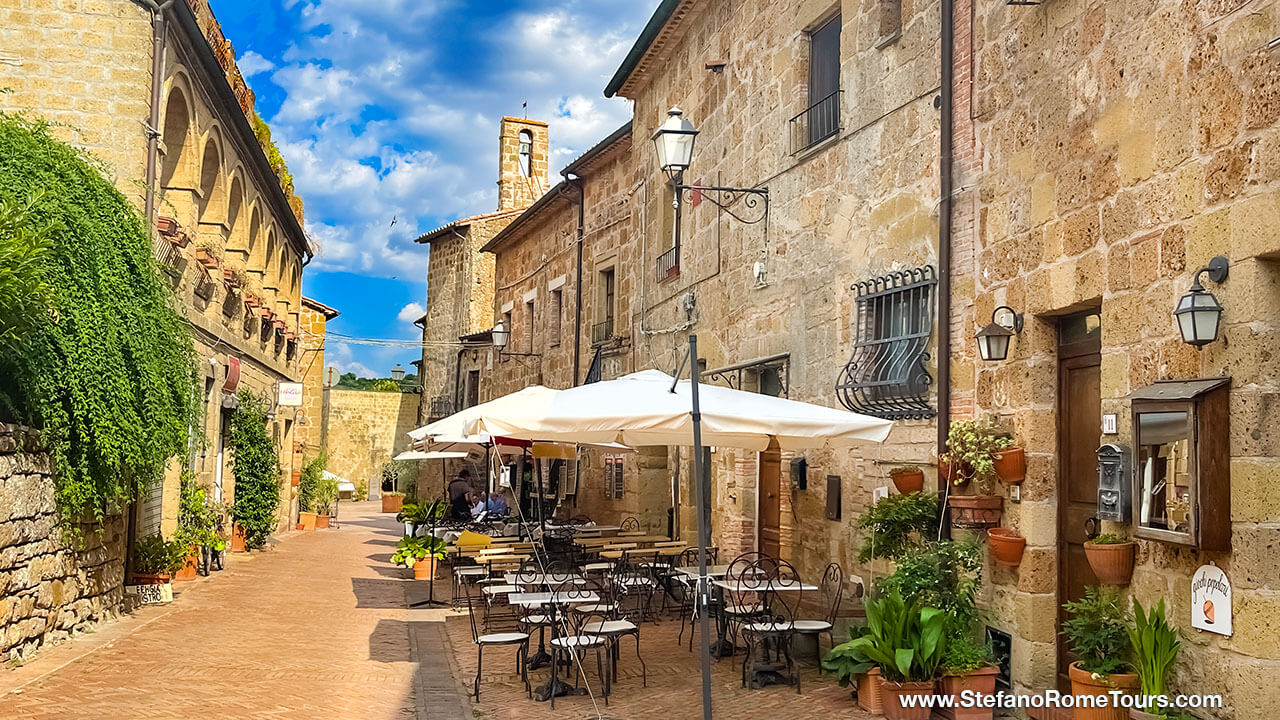 Relish a stroll along the village's main street Via del Pretorio lined with medieval buildings that host inviting boutiques. At the end of this street, you will discover the Cathedral of St. Peter that's believed to have been built on top of an ancient acropolis. At other the opposite end of the village rising proudly amidst the landscape the ruins of Rocca Aldobrandesca narrate a tale of antiquity.
Scroll down to read more about what to see in Sovana during your visit.

A visit to Sovana is a journey into the very heart of history, where legends come to life amidst the captivating beauty of a village that time forgot.


As your journey through the mystical wonders of Pitigliano and Sovana draws to a close at approximately 3 PM, you will bid farewell to these hidden gems of Tuscany's Maremma region as you join your driver to take you back to your hotel in Rome aiming to arrive by around 5:30 PM.
Enjoy a leisurely drive through the picturesque countryside reflecting on the enchanting beauty and rich history you've experienced, leaving a lasting impression, and igniting a desire to delve further into the wonders that Italy has to offer.
Thank you for booking our Mystical Tuscany: Pitigliano and Sovana Tour from Rome, and for choosing Stefano Rome Tours for your private tours from Rome. We take great pride in curating unique and enriching experiences for our guests, and we are delighted to share with you Tuscany's magical heritage on our best Tuscany tours from Rome.
We look forward to meeting you in Italy, where new adventures and discoveries await.


Important Information
Please READ the important information below as well as Read & Accept our TERMS OF SERVICE and Privacy Policy prior to placing your reservation request(s).



PAYMENT OPTIONS:
Payment for this Pitigliano and Sovana Tuscany Tour from Rome can be made in Euro funds at the end of your journey directly to your driver, or you may prepay in advance via PayPal or Credit Card upon request.
CANCELLATION POLICY:
We kindly ask that cancellations be made at least 7 days in advance in writing via E-Mail. Cancellations by phone, text, or 3rd party who is not the person who booked the service are NOT accepted.
** PREPAID SERVICES can only be Refunded the Net Rate we receive from your prepayment. Net Rate is the actual service price minus the fees retained by PayPal/Credit Card that are not reimbursed to us in case of refunds. We can only refund the portion we receive from the PayPal/CC company.
EMAIL INQUIRIES / BOOKING REQUESTS
Please allow up to 24 hours for email correspondence in response to email inquiries and tour reservation requests.
We reply to ALL emails and booking requests we receive. If you don't receive correspondence from us within 24-48 hours please CHECK YOUR SPAM FOLDER, or send us an email from a different E-mail account.
HOTEL MEETING POINT TO MEET YOUR DRIVER

For hotel pick-ups, your driver will meet you inside your hotel lobby, or area permitted by your hotel.
For Apartments or B&Bs without a lobby, your driver will meet you at your address outside the main entrance.
* If your hotel/accommodation is situated on a street or in an area restricted to vehicle traffic, your driver will park the vehicle as close as lawfully possible and will meet you on foot at your Address. From there, your driver will accompany you to your parked vehicle. Door to Door service may not be possible on streets or areas with restricted vehicle access or stops.


YOUR STEFANO ROME TOURS DRIVER


This Pitigliano and Sovana Tuscany Tour from Rome provides an English-speaking Driver who is NOT a Licensed Tour Guide.
Italy has strict laws and regulations aimed to protect official licensed guides that make it unlawful for Drivers to act as tour guides or accompany guests to sightsee on foot away from the vehicle. In order for us to comply with Italy's laws, Drivers are required to remain with the vehicle while guests sightsee on their own away from the vehicle.
During this tour you will SELF TOUR (unaccompanied by your driver) when away from the vehicle.
Interesting Things to See & Do in Pitigliano during your visit
Explore Little Jerusalem / Piccola Gerusalemme

During your visit to Pitigliano, you have the opportunity to explore the towns' unique heritage.Affectionately known as "Little Jerusalem" (Piccola Gerusalemme), Pitigliano bears testament to its fascinating history shaped by a sizable Jewish community that sought refuge during the 15th century amidst the turmoil of the Counter-reformation in Rome. As Jewish families settled here, they infused the town with their rich traditions and culture, transforming one of the caves into a Passover matzoh bakery known as the "forno delle azzime".
While only a few Jewish residents remain, the Jewish ghetto on Via Zuccarelli serves as a poignant reminder of their enduring legacy. Among its attractions, the restored Synagogue, dating back to 1598, welcomes visitors for worship and exploration. Additionally, rock-hewn cellars for Kosher wine production, the unleavened bread oven, the Kosher butcher, and the ritual baths for women offer glimpses into their vibrant past.
See below admission tickets and information for visiting the Jewish Quarters during your Pitigliano and Sovana tour from Rome.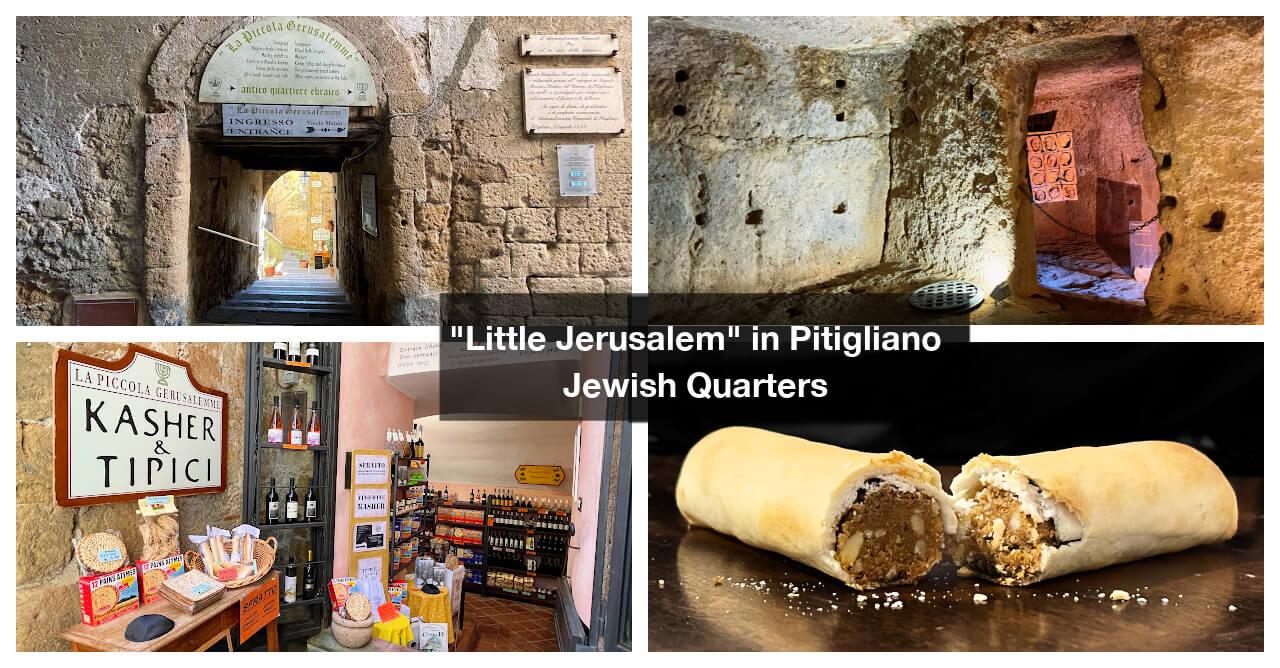 Indulge in a tasty Sfratto di Pitigliano


Don't miss out on this special treat! A culinary delight awaits in the form of the traditional local sweet known as "Sfratto di Pitigliano," Encased in a hard doughy shell shaped like a baton, this delectable treat boasts a delightful blend of walnuts, honey, nutmeg, orange peel, and anise.
The "Sfratto di Pitigliano" holds a fascinating history intertwined with legend and tradition. During the 17th century, the Grand Duke of Tuscany, Cosimo II de Medici, issued an edict compelling Jews from neighboring towns, such as Sovana and Sorano, to resettle within the confines of Pitigliano's newly established Jewish ghetto. This decree, known as the "sfratto" or "eviction" in Italian, marked a significant event in Pitigliano's history. As officials carried out the eviction orders, they were said to knock on the doors of Jewish homes with a stick.
A hundred years later, in commemoration of this event and as a testament to their resilience, the Jewish community of Pitigliano created the Sfratto di Pitigliano. This scrumptious pastry became a sweet and symbolic replacement for the evictions, celebrating the enduring spirit of Pitigliano's Jewish community and preserving their legacy through the passage of time. Today, this delectable treat not only delights the taste buds of visitors but also serves as a poignant reminder of the town's history and the indomitable spirit that defines its captivating tale.

Browse the Shops in Pitigliano


Pitigliano is easy to visit as there are just 2 main roads (Via Roma and Via Zucarelli) that run parallel to each other several blocks in length, and they meet at their far ends so visitors can begin their stroll along Via Roma, then circle around to come back to the same place along Via Zucarelli.
Both pedestrian-friendly lanes (with rare small local vehicles that pass through) are lined with delightful shops that could be considered a shopaholic's paradise!
From hand-crafted hats and leather goods for men and women, to artist-made ceramics, unique clothing shops, tasty bakeries, gorgeous hand-made jewelry, gastronomic boutiques, and an array of irresistible souvenirs, there is something for everyone to indulge in as mementos of your tour to Pitigliano or treasured gifts for loved ones back home.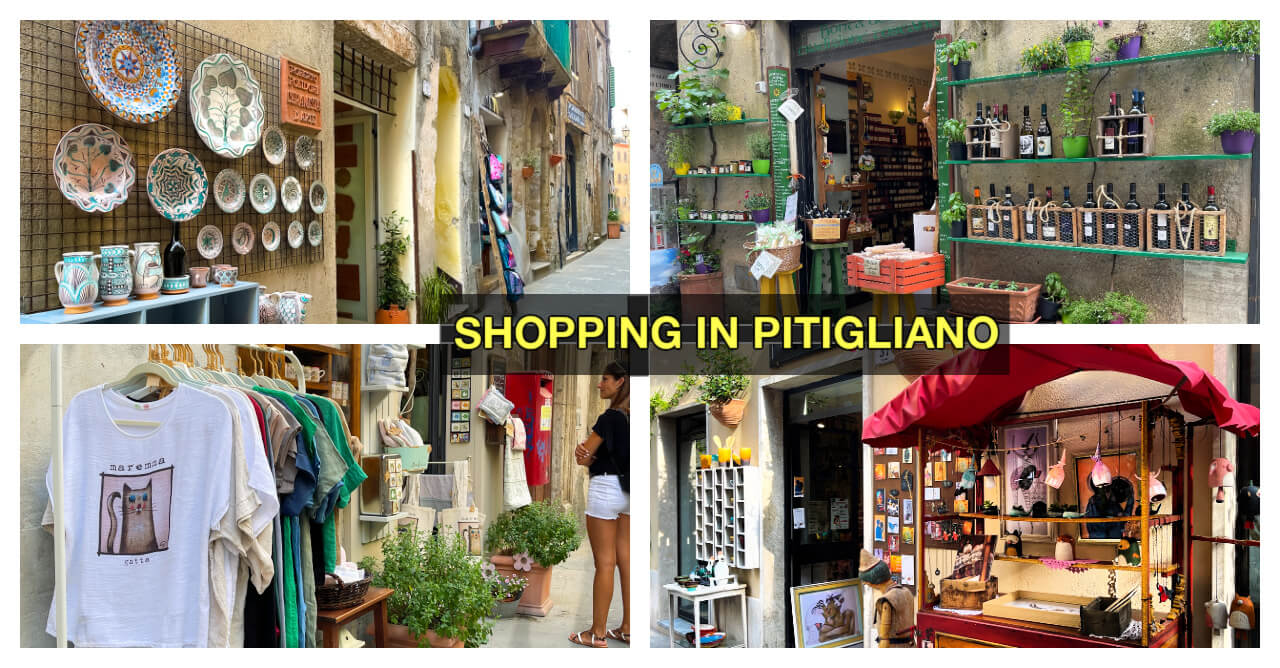 Visit Palazzo Orsini Museum
If you've dreamed of stepping into a Renaissance palace and exploring its halls and elegant rooms, you may instead use your time in Pitigliano to visit the Palazzo Orsini which is also a museum that showcases some Renaissance-era artifacts such as jewelry, paintings, books, and religious objects from the bygone era of lords and dukes. The palazzo is sprawled across multiple floors with medieval flights of stairs to negotiate.
* This museum is not recommended for visitors with mobility concerns. See below Admission Ticket information if you wish to visit the museum.



Interesting Things to See in Sovana during your visit: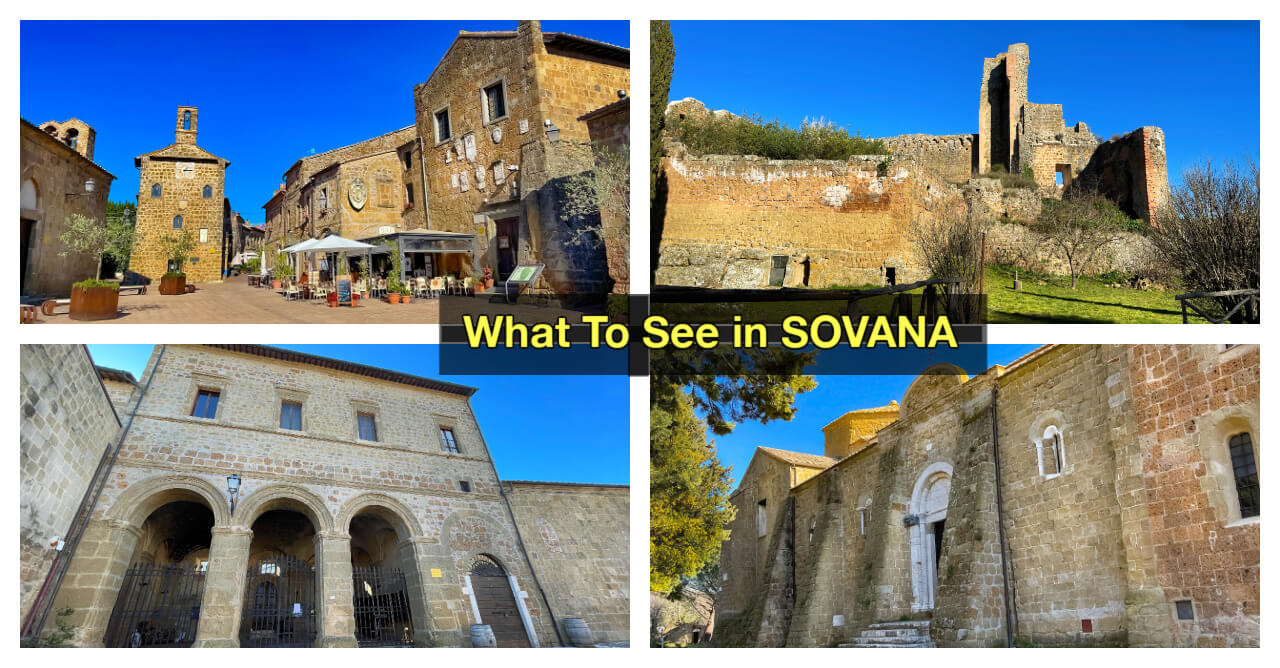 Admire Palazzo dell'Archivio and the Praetorian Palace

While the village is tiny, there is still so much to see in Sovana on this Tuscany tour.
Dominating Piazza del Pretorio's western edge is the 12th-century Palazzo Comunale (Palazzo dell'Archivio), which was established as Sovana's municipal hub. In 1588 the clock was added to the facade, which has since become a prominent feature, followed by the bell tower which was added in the 17th century. As time progressed, the palace transformed into Sovana's official city archive, a role it has upheld since the 17th century. Today, the palazzo houses the archived records of the history and archaeology of Sovana.
In the heart of the square, the spotlight shifts to the Praetorian Palace, a relic hailing from the 12th century. Exhibiting a resolute rectangular design, its form has undergone multiple alterations across the ages. Adorning its façade are intricate embellishments: a series of emblems representing the Captains of Justice alongside the esteemed Medici lineage, an artistic ode to the currents of power and authority that have coursed through its walls.
Visit the Church of Santa Maria Maggiore


Behold the Church of Santa Maria Maggiore in Piazza del Pretorio. While the façade might not seem impressive, the real treasure lies within its walls. Delve into the sanctuary's interior, and a precious relic of antiquity unveils itself—an intact pre-Romanesque ciborium, a splendid canopy poised over the altar, its weight borne by four stately pillars.
Captivating frescoes, hailing from the 15th century, adorn sections of the walls, a vibrant tableau of artistic heritage frozen in time
This magnificent piece, one of Tuscany's most ancient, is believed to have been repurposed from the former San Mamiliano church, a testament to the continuity of sacred artistry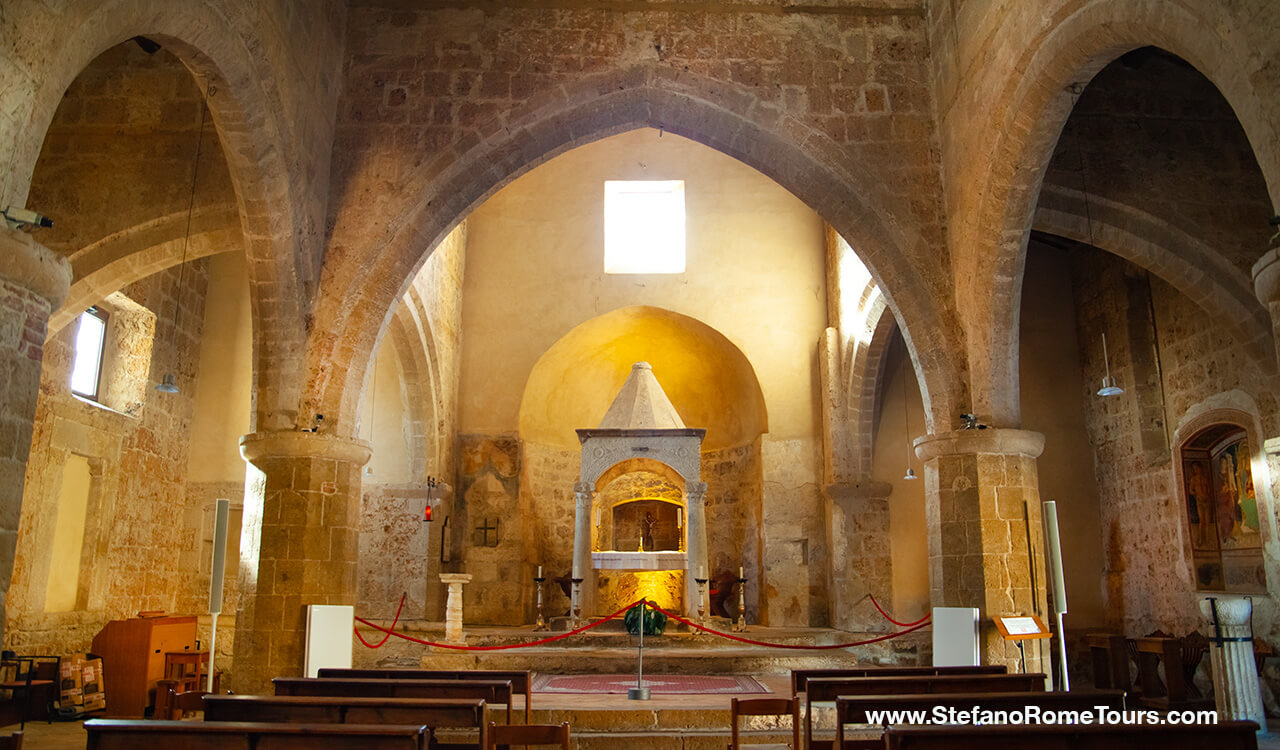 See the ruins of Rocca Aldobrandesca


During your visit in Sovana, take a stroll to the opposite end of the village and see the ruins of Rocca Aldobrandesca. Once a bustling hub at the heart of the town, it served as a bastion of sustenance, offering not only a source of water and a bustling bakery but also a repository for grains. What endures from that era are mere fragments: a grand portal that once welcomed, a sentinel tower that gazed, and a segment of a shielding bulwark that stood unwavering.
Visit Sovana Cathedral of Saint Peter


One of the highlights of this Tuscany tour to Pitiglian and Sovana is Sovana's Cathedral of St. Peter which stands as a majestic testament to architectural harmony and sculptural splendor. Its mesmerizing Gothic doorway, adorned with refined marble, boasts mysterious symbolic motifs like the siren with double tails, spiraling human figures, intricate floral patterns, and a series of geometric bas-reliefs linked to medieval spiritualism.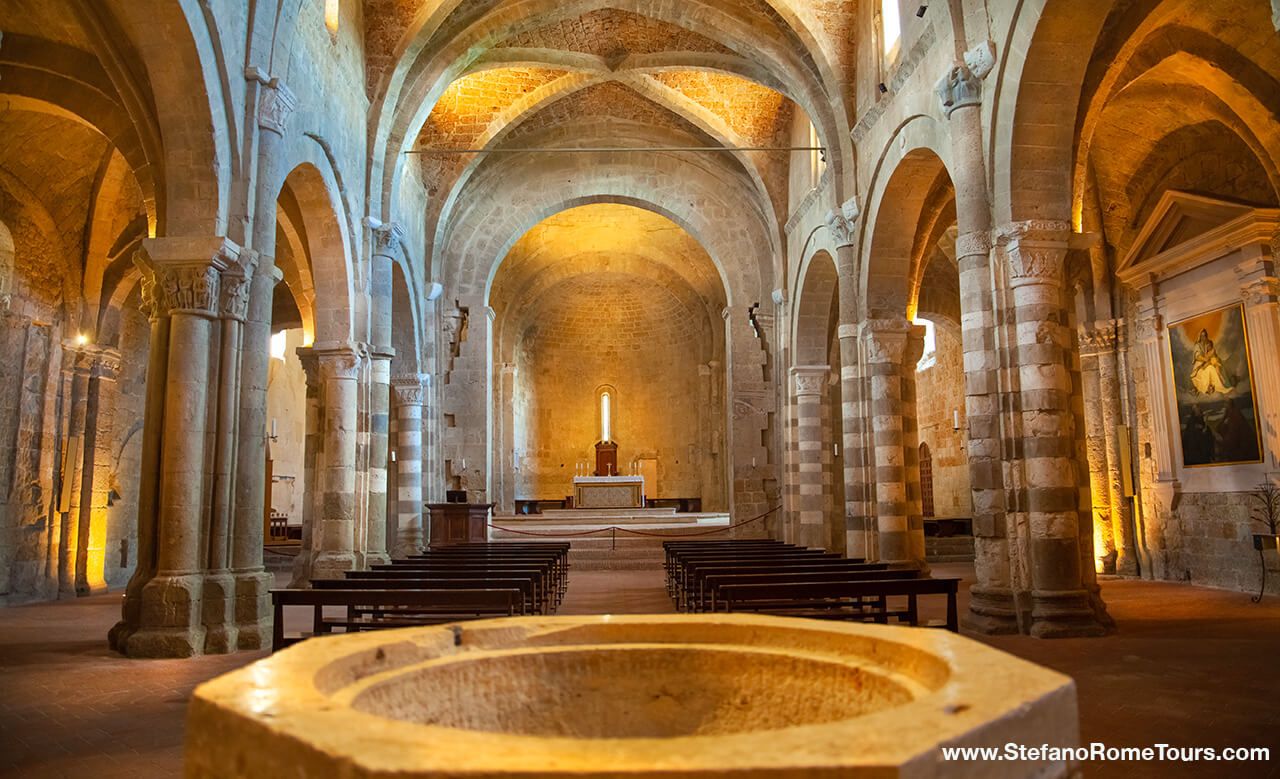 ADMISSION TICKETS for attractions in Pitigliano and Sovana:


If you wish to visit any of these sites in Pitigliano and Sovana, they require admission tickets.
** Ticket prices are subject to change without notice.
"La Piccola Gerusalemme" / Little Jerusalem in Pitigliano
Ticket Price: 5 EUROS per person
CLOSED on Saturdays, Jewish holidays, and Christmas Day


Museum of Orsini Palace in Pitigliano
Ticket Price: 5 EUROS Per Person


Cathedral of St. Peter in Sovana
Ticket Price: 2.50 EURO Per Person
St Peter Cathedral in Sovana is open in the afternoon between 14:30 - 19:00
In January & February: the Cathedral is open only on Saturday and Sunday


COMBO TICKETS
You may purchase Combo Tickets to visit the Museum of Orsini Palace in Pitigliano and the Cathedral of St Peter in Sovana. Please ask at the reception desk at the Orsini Palace Museum.
Combo Ticket Price: 6 EUROS Per Person