Payment method:Cash, Paypal, Credit card

starting time:9:00
highlights
Upgrade your long distance transfer between Rome and Florence into a fun filled tour experience
Enjoy a 2 Hour free time on your own Self Tour Orvieto, one of the most beautiful historic towns in Umbria
Stroll pedestrian streets, browse Orvieto's famed ceramics, sample wines or local delicacies, or visit the Cathedral
Journey through Italy comfortably and safely in your private deluxe vehicle with your personal English speaking Driver
Pick you up and drop you off at your Hotel accommodation for optimal convenience
Your luggage will travel safely with you inside your vehicle's luggage compartment
Traveling between Rome and Florence has never been as easy, comfortable and exciting!
Recommended pick up time is 9:00 AM
* Include your complete DROP OFF Address in the Message Box of your reservation request
included
Private Deluxe Vehicle
Personal English speaking Driver
All applicable Taxes
Highway tolls, parking fees, road expenses
not included
Admission Tickets
Lunch
Gratuities
Licensed Tour Guide / Walking Tours
description
Make the most of your long distance transfer from Rome to Florence (or vice versa from Florence to Rome) with a visit to Orvieto, one of Italy's most remarkable historic towns in the heart of Umbria.
Your personal English speaking Driver will pick you up at your hotel, and on your way to your final destination you will have the opportunity to visit Orvieto on a 2 hour self tour.
ROME - FLORENCE with ORVIETO SIGHTSEEING TRANSFER PRICE LIST

For up to 4 Persons from Hotel: 690 EUROS
For up to 6 Persons from Hotel: 800 EUROS
For up to 8 Persons from Hotel: 950 EUROS
* DATES on the Booking Form Calendar that are NOT Selectable, are NOT AVAILABLE.
** This service is possible starting from Rome and ending in Florence, or starting from Florence and ending in Rome.
* Include your complete DROP OFF ADDRESS in the Message Box of the booking form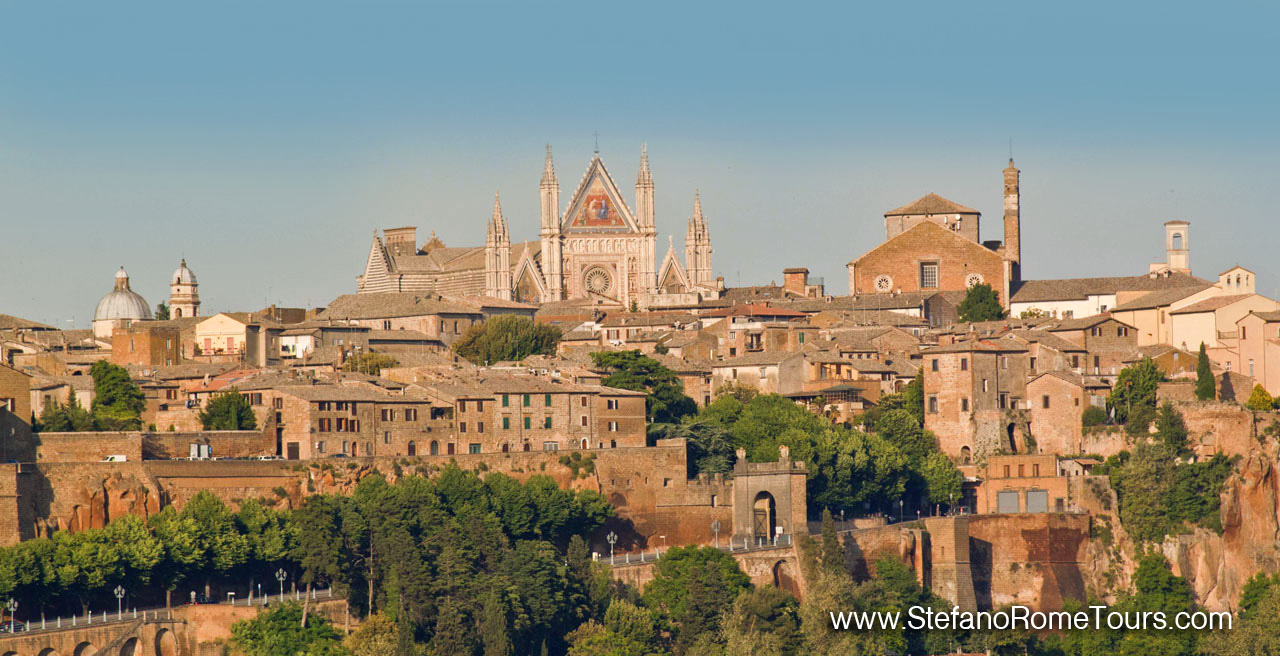 ORVIETO

Impressively situated above a volcanic plug, which is a volcanic landform created when magma hardens within a vent on an active volcano, Orvieto appears to be rising right out of the rock formation upon which it was built.
One of the most important sites to see and visit is the 14th century Cathedral of Orvieto built by Pope Urban IV to provide a beautiful holy place for the Corporal of Bolsena.
The cathedral's construction was begun in 1290 and lasted for almost 300 years evolving from Romanesque to Gothic as can be seen in the intricate facade that contains many elements of design.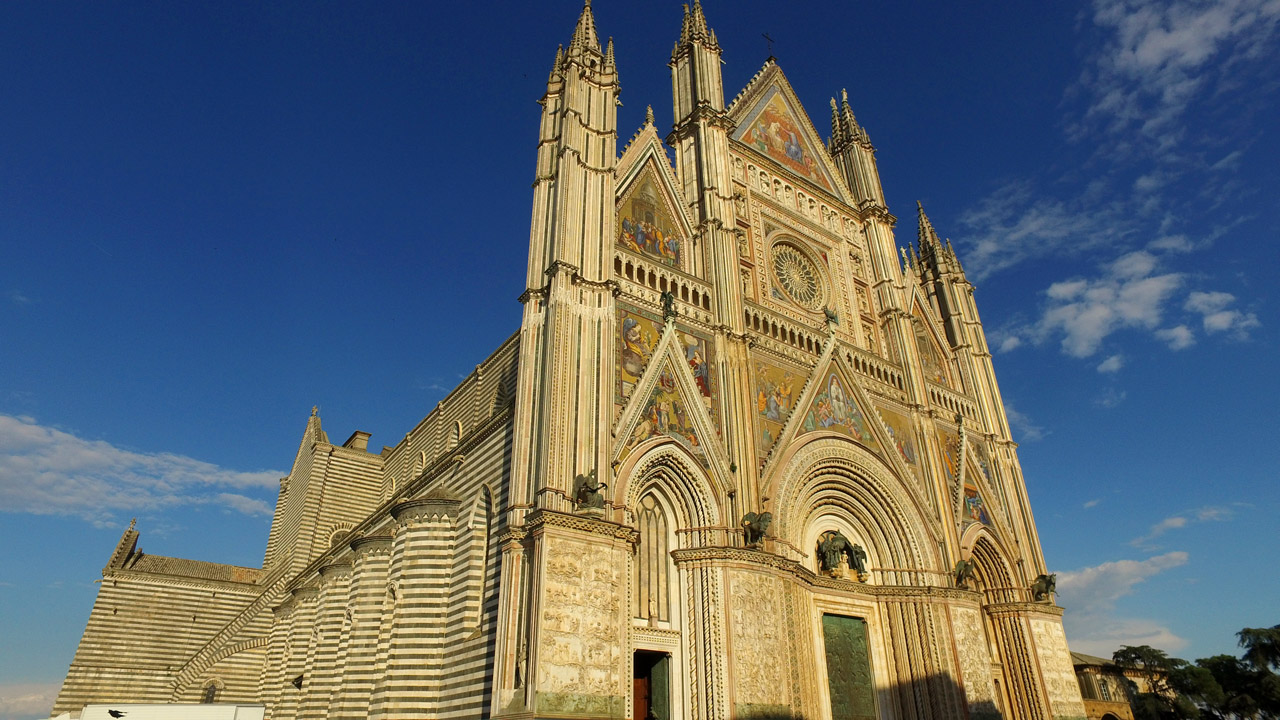 Largely pedestrian friendly and ideal for a stroll, Orvieto has excellent shopping opportunities at many ceramic shops that sell locally handcrafted ceramics with designs unique to Orvieto.
Wine lovers will be delighted at the excellent Orvieto wines are mainly white wines made from a blend of mostly Grechetto and Trebbiano. The region has been producing wine since the Middle Ages, and today's white Orvieto is dry, but a semi-sweet style, known as Orvieto Abboccato, and dolce (sweet), are also produced in small quantities. Visitors may sample wines at various local wine shops in town.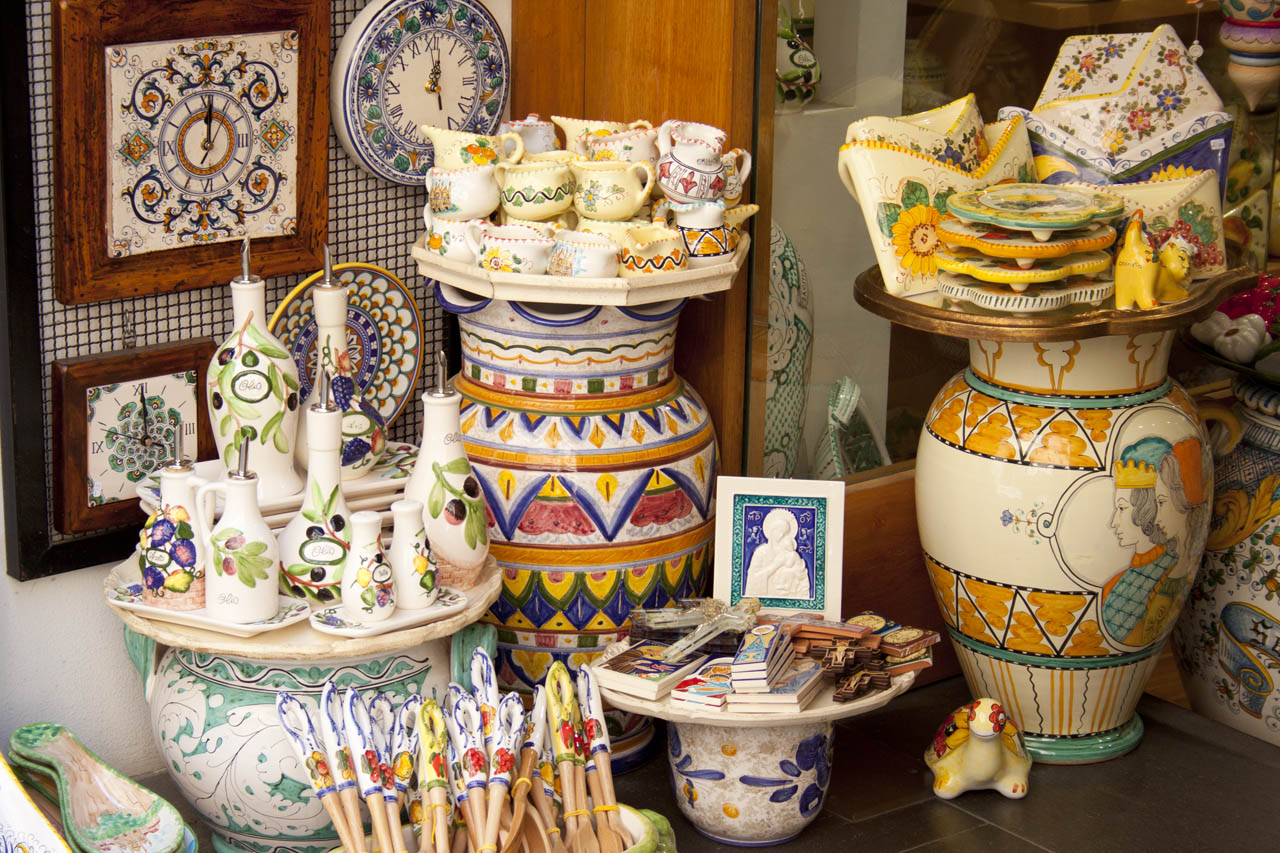 At the completion of your visit in Orvieto, you will meet your driver at the appointed Meeting Time and Place, and continue on your leisurely journey to your final destination.
Thank you for booking with Stefano Rome Tours, Rome's leading company for Private Day Tours from Rome and Florence, and Italy Private Excursions. We look forward to showing you Italy!
Important Information

Please READ the important information below as well as Read & Accept our TERMS OF SERVICE and Privacy Policy prior to placing your reservation request(s).


PAYMENT OPTIONS for Rome - Florence Transfer with Orvieto visit:
Payment can be made in Euro funds at the end of your journey directly to your driver, or you may prepay in advance via PayPal or Credit Card online when you Confirm your Tour.

CANCELLATION POLICY:
We kindly ask that cancellations be made at least 7 days in advance so we can rebook your service and your reserved driver does not lose work for that day. We thank you for your cooperation and consideration.
** PREPAID SERVICES can only be Refunded the Net Rate we receive from your prepayment. Net Rate is the actual service price minus the fees retained by PayPal/Credit Card that are not reimbursed to us in case of refunds. We can only refund the portion we receive from the PayPal/CC company.
EMAIL INQUIRIES / BOOKING REQUESTS
Please allow up to 24 hours for email correspondences in response to email inquiries and tour reservation requests.
We reply to ALL emails and booking requests we receive. If you don't receive correspondence from us within 24-48 hours please CHECK YOUR SPAM FOLDER, or send us an email from a different E-mail account.
YOUR DRIVER
* This Sightseeing Transfer provides an English speaking Driver who is NOT a licensed tour guide.
Italy laws permit only licensed tour guides to accompany guests to sightsee on foot away from the vehicle. To be compliant with Italy laws, your driver cannot lawfully guide you into the sites, and will be obliged to remain with the vehicle while you SELF TOUR away from the vehicle.
MEETING POINT TO MEET YOUR DRIVER at your Hotel Accommodation:


For hotel pick-ups, your driver will meet you inside your hotel lobby, or area permitted by your hotel.
For Apartments or B&B's without a lobby, your driver will meet you at your address outside the main entrance.

IMPORTANT FOR PICK UP and DROP OFF:
* If your hotel / accommodation is situated on a street or in an area restricted to vehicle traffic, your driver will park the vehicle as close as lawfully possible. For Pick Up, your driver will meet you on foot at your address and accompany you to your parked vehicle. For Drop Off, your driver will assist you on foot from the parked vehicle to your hotel accommodation address. *** Door to Door service may not be possible on streets or areas with restrictions to traffic or stops.

LUGGAGE:
Please inform us in your reservation (message box) of the total luggage you anticipate bringing (large check-in suitcases and small carry-on cases) so we can provide you with a suitable vehicle to safely accommodate all passengers and their luggage.
If you are a party of 1-3 persons and your luggage exceeds the capacity of a sedan-type vehicle, an upgrade to a minivan at additional cost may be required.
The luggage capacity for a minivan is up to 6 suitcases and up to 6 carry-on cases in TOTAL.