Payment method:Cash, Paypal, Credit card

starting time:9:00 AM
highlights
Upgrade your long distance transfer between Rome and Florence to an exciting tour experience
Enjoy a 2 Hour Self Tour visit to Siena, one of the most famous and remarkable historic towns in Tuscany
Journey through Italy in the comfort of your private deluxe vehicle driven by your personal English speaking Driver
Pick you up and drop you off at your Hotel accommodation for optimal convenience
Your luggage will travel safely with you inside your vehicle's luggage compartment
Traveling between Rome and Florence has never been as easy, comfortable and exciting!
Ideal for families with children and visitors who wish to maximize their sightseeing opportunities in Italy
Recommended pick up time is 9:00 AM
* Please include your complete DROP OFF ADDRESS in the Message Box of your Booking Form
included
Private Deluxe Vehicle
Personal English speaking Driver
All applicable Taxes
Highway tolls, parking fees, road expenses
not included
Admission Tickets
Lunch
Gratuities
Licensed Tour Guide / Walking Tours
description

Enhance your long distance transfer from Rome to Florence (or vice versa from Florence to Rome) with a visit to Siena - one of Italy's most famous historic towns in the heart of Tuscany.
Your personal English speaking Driver will pick you up at your hotel, and on your way to your final destination you will have the opportunity to visit Siena on a 2 hour self tour.
ROME - FLORENCE with SIENA VISIT PRICE LIST


For up to 2 Persons from Hotel: 640 EUROS
For up to 4 Persons from Hotel: 690 EUROS
For up to 6 Persons from Hotel: 740 EUROS
For up to 8 Persons from Hotel: 790 EUROS
* Dates on the Booking Form Calendar that are NOT Selectable, are NOT AVAILABLE.
** This service is possible starting from Rome and ending in Florence, or starting from Florence and ending in Rome.
** Please include your complete DROP OFF ADDRESS in the Message Box of your Booking Form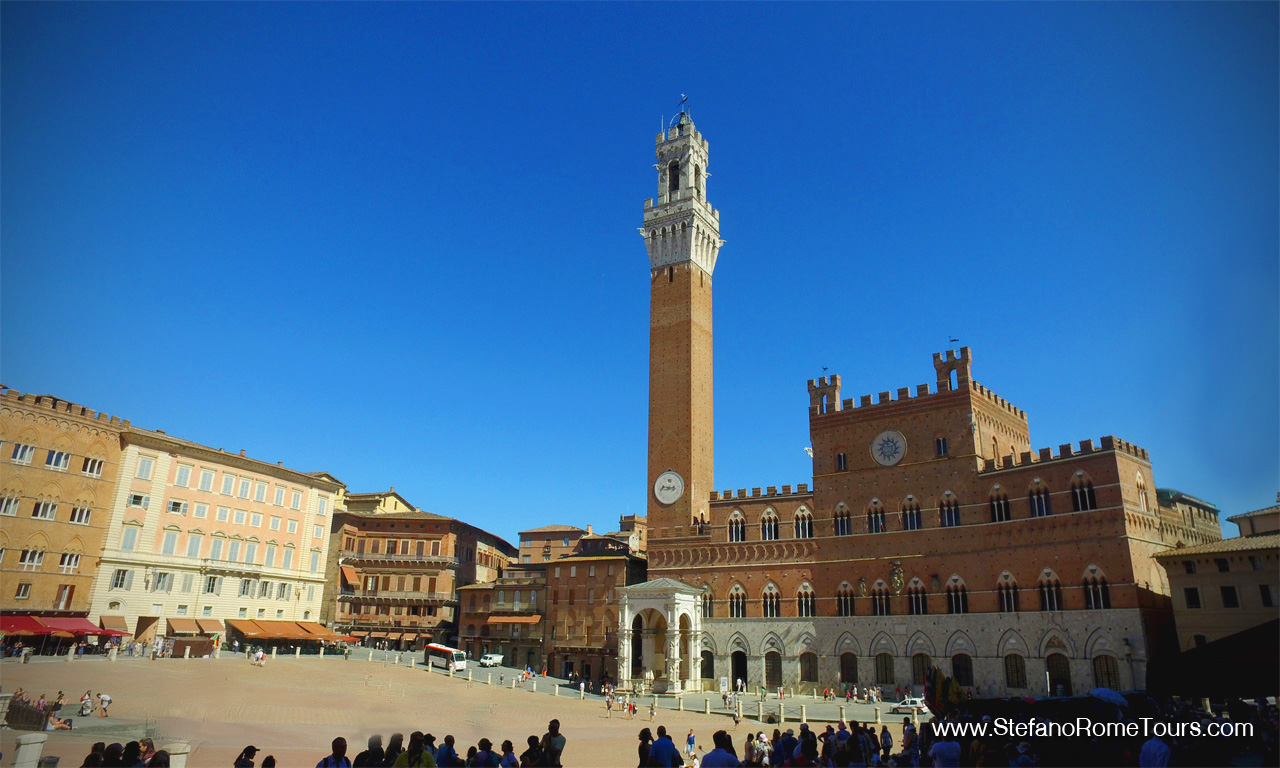 SIENA
Siena is one of the top destinations in Italy, and among the most famous cities in the world!
Surrounded by fortified Medieval walls, Siena has remarkably preserved its beautiful historic architecture offering visitors a fascinating glimpse into its distant medieval past.
The most famous square in Siena not to be missed on your visit is the 13th century shell-shaped Piazza del Campo. This uniquely shaped square is dominated by Palazzo Pubblico and its Torre del Mangia and encircled by earth toned historical palazzi with cafes and restaurants.
Piazza del Campo also hosts the world renown Palio, a bi-annual medieval horse race where rival members of 17 different "Contrade" (neighborhoods originally created as defense battalions with each represented by an animal or mascot) race at breakneck speed around the sharp curves of the square that is full of passionate locals deeply devoted to their centuries old traditions.
As it is historic Siena is also contemporary, enticing visitors with the latest Italian fashion, hand painted ceramics, fine paper goods that make ideal gifts, precious jewelry, and a delicious variety of locally produced items. At each turn you will discover something of interest and beauty as you stroll through the charming streets of Siena.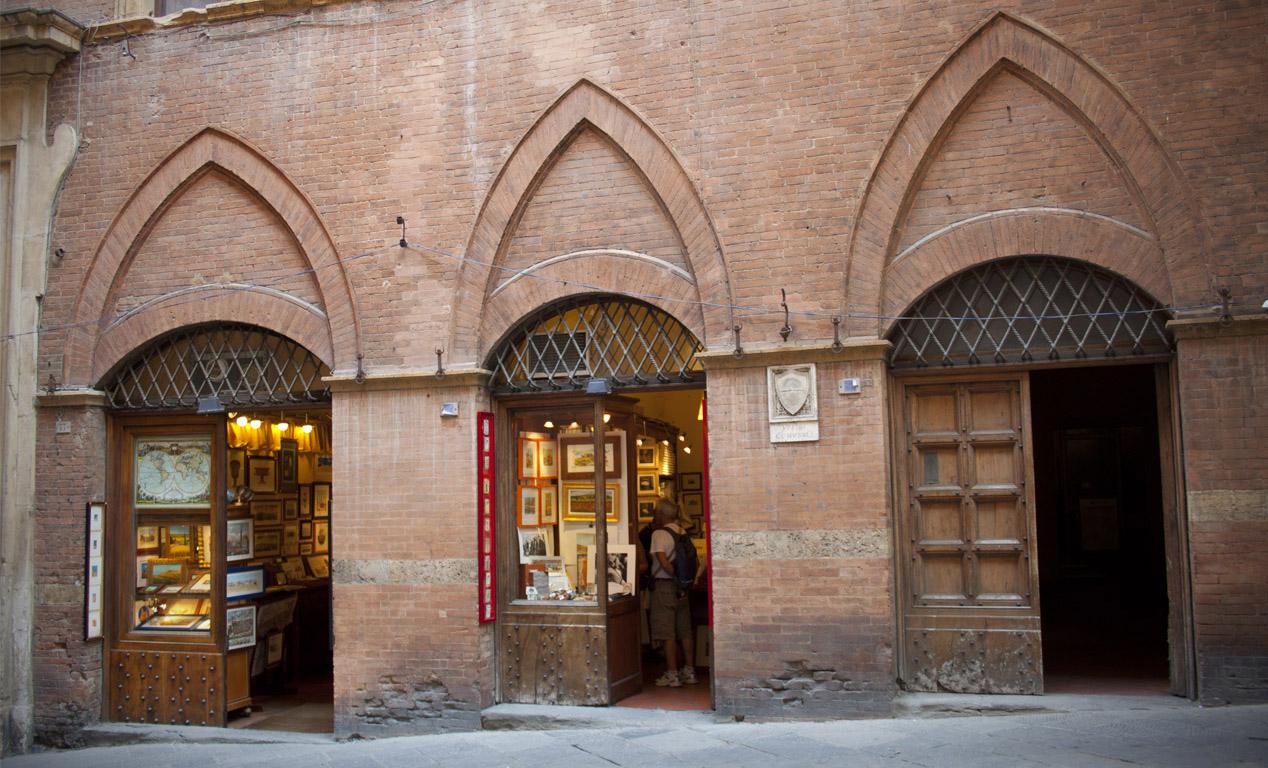 Following your Siena visit, you will meet your driver at the appointed Meeting Place and continue your journey to your final destination.
Thank you for choosing Stefano Rome Tours for your Italy Tours and Sightseeing Transfers. We look forward to showing you Italy!
Important Information

Please READ the important information below as well as Read & Accept our TERMS OF SERVICE and Privacy Policy prior to placing your reservation request(s).


PAYMENT OPTIONS for Rome - Florence Transfer with Siena Visit:
Payment can be made in Euro funds at the end of your journey directly to your driver, or you may prepay in advance via PayPal or Credit Card online when you Confirm your Tour.

CANCELLATION POLICY:
We kindly ask that cancellations be made at least 7 days in advance so we can rebook your service and your reserved driver does not lose work for that day. We thank you for your cooperation and consideration.
** PREPAID SERVICES can only be Refunded the Net Rate we receive from your prepayment. Net Rate is the actual service price minus the fees retained by PayPal/Credit Card that are not reimbursed to us in case of refunds. We can only refund the portion we receive from the PayPal/CC company.
EMAIL INQUIRIES / BOOKING REQUESTS
Please allow up to 24 hours for email correspondences in response to email inquiries and tour reservation requests.
We reply to ALL emails and booking requests we receive. If you don't receive correspondence from us within 24-48 hours please CHECK YOUR SPAM FOLDER, or send us an email from a different E-mail account.

YOUR DRIVER
* This Sightseeing Transfer provides an English speaking Driver who is NOT a licensed tour guide.
Italy laws permit only licensed tour guides to accompany guests to sightsee on foot away from the vehicle. To be compliant with Italy laws, your driver cannot lawfully guide you into the sites, and will be obliged to remain with the vehicle while you SELF TOUR away from the vehicle.
MEETING POINT TO MEET YOUR DRIVER


At ROME HOTEL / ACCOMMODATION:
For hotel pick ups, your driver will meet you inside your hotel lobby, or area permitted by your hotel.
For Apartments or B&B's without a lobby, your driver will meet you at your address outside the main entrance.

IMPORTANT FOR PICK UP and DROP OFF:
* If your hotel / accommodation is situated on a street or in an area restricted to vehicle traffic, your driver will park the vehicle as close as lawfully possible. For Pick Up, your driver will meet you on foot at your address and accompany you to your parked vehicle. For Drop Off, your driver will assist you on foot from the parked vehicle to your hotel accommodation address. *** Door to Door service may not be possible on streets or areas with restrictions to traffic or stops.

LUGGAGE:
Please inform us in your reservation (message box) of the total luggage you anticipate bringing (large check-in suitcases and small carry-on cases) so we can provide you with a suitable vehicle to safely accommodate all passengers and their luggage.
If you are a party of 1-3 persons and your luggage exceeds the capacity of a sedan-type vehicle, an upgrade to a minivan at additional cost may be required.
The luggage capacity for a minivan is up to 6 suitcases and up to 6 carry-on cases in TOTAL.