description
PITIGLIANO AND SOVANA Shore Excursion from Civitavecchia:


For up to 4 Persons from Rome Hotel: 600 EUROS
For up to 6 Persons from Rome Hotel: 700 EUROS
For up to 8 Persons from Rome Hotel: 800 EUROS


* DATES on the Booking Form Calendar that are NOT Selectable, are NOT AVAILABLE.
This Tuscany Tour starts and ends at Civitavecchia Cruise Port.


Embark on an unparalleled shore excursion from Civitavecchia to the mystical realm of Southern Tuscany's Maremma region on our popular "Mystical Tuscany: Pitigliano & Sovana Tour from Civitavecchia".
Escape to Maremma, a tranquil haven where the authentic essence of Tuscany comes to life amidst open landscapes, rolling hills, rustic charm, and untamed wilderness. Immerse yourself in a realm where cowboys, long-horned cattle, and Etruscan treasures thrive, and fairytale medieval towns crown hilltops, offering breathtaking vistas of lush valleys and deep ravines.
Your dedicated Stefano Rome Tours English-Speaking driver will conveniently meet you on the Pier next to your Cruise Ship in Civitavecchia at 8:00 AM. As you set off from the port, the scenic drive through the picturesque landscapes of Lazio will gradually lead you into the heart of Tuscany's Maremma region, unveiling the enchanting hilltop towns of Pitigliano and Sovana for your exploration.
Delving into these medieval gems, you'll uncover a rich heritage steeped in Etruscan history. Sovana and Pitigliano stand as rare places of Etruscan origin, boasting an uninterrupted habitation since ancient times, making them truly extraordinary destinations to unravel. Prepare to be swept away by the enchanting magic and mystique of this unique corner of Tuscany, where timeless wonders await your discovery.
PTIGLIANO - Maremma Majestic Hilltown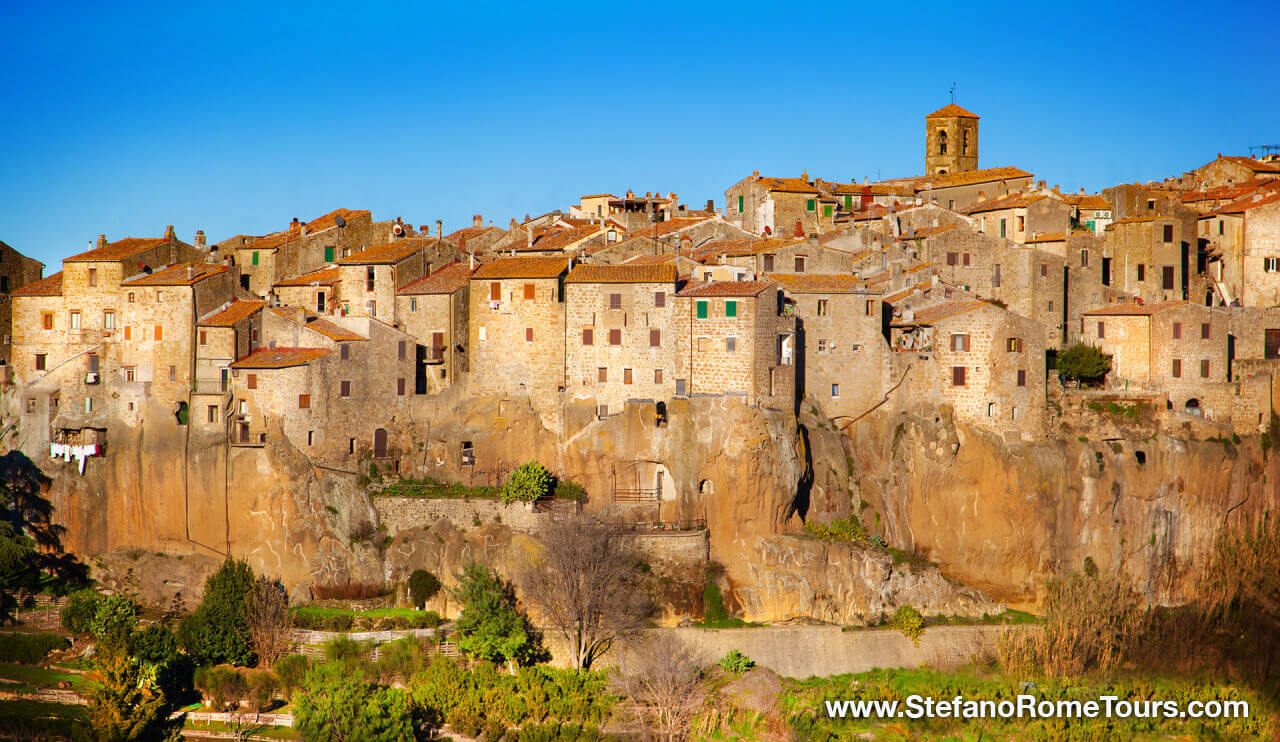 Perched majestically atop a stunning promontory, Pitigliano exudes ancient charm with its medieval volcanic stone buildings adorned by terracotta roofs, seemingly rising organically from the rocky cliffs. Crossing the bridge over the gorge, you'll be captivated by Pitigliano's allure, a town brimming with a rich heritage that fills the locals with immense pride. Traces of its prehistoric origins, ancient tombs, and caves along the city walls showcase the depth of its history.
With a name inherited from Roman colonization, Pitigliano, also known as Petilia Gens, is steeped in the legacies of the illustrious Aldobrandeschi, Orsini, and Medici families. Their influence is evident in the awe-inspiring architecture, from the formidable Palazzo Orsini that is now a museum, to the iconic Medici Aqueduct symbolizing the town's tenacity.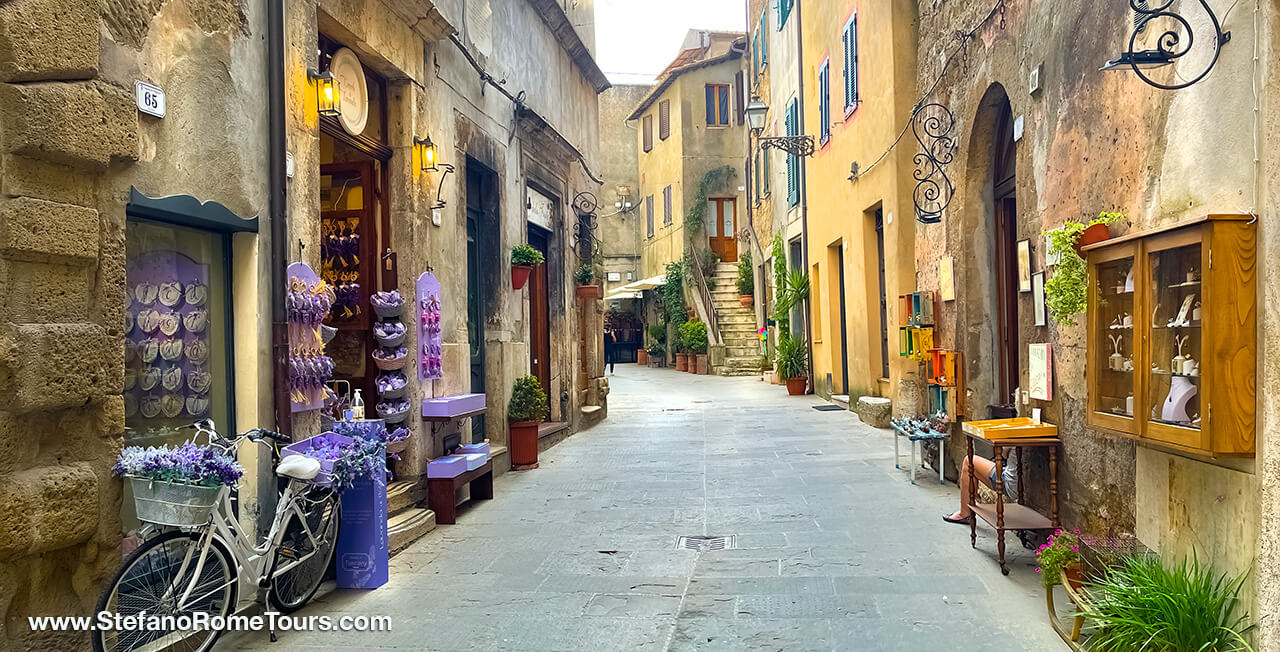 As you stroll through quaint squares and centuries-old medieval streets designed for carts rather than automobiles, you'll be transported back to an era of lords, dukes, and counts, reliving the very streets they once trod upon. Pitigliano beckons with its timeless charm, inviting you to delve into the past and embrace its captivating history.
Pitigliano takes pride in its superb dining establishments, offering delectable local delicacies that pair seamlessly with a glass of locally crafted wine. This combination provides a perfect and refreshing lunch break during your visit in Pitigliano.
Scroll down for more information on what to see and do in Pitigliano during your visit.


From here you will join your personal driver for a short journey to your next destination: Sovana.
SOVANA - Enchanting Jewel of Tuscany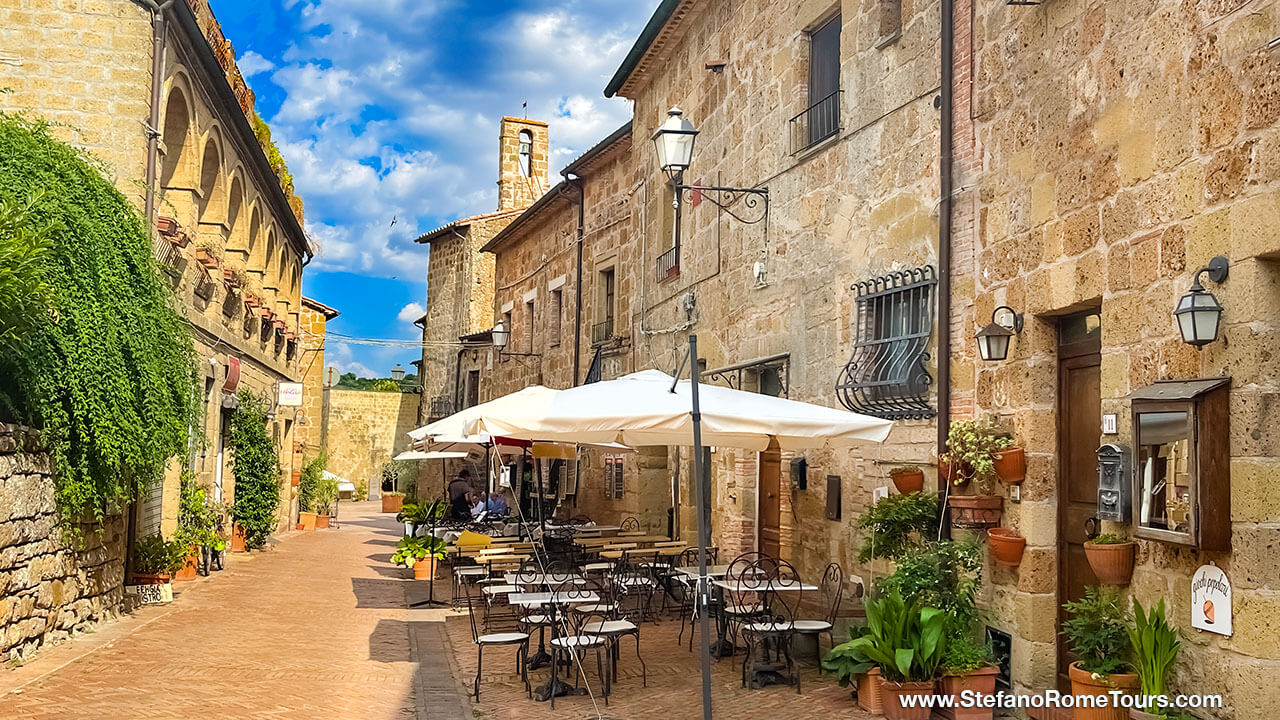 Within the protective embrace of medieval walls, Sovana's captivating tale unfolds, immersing visitors in a world of mystery and grandeur. From its ancient roots dating back to the Neolithic and Bronze Ages to its transformation into the Roman colony Suana, the village resonates with a rich heritage that echoes through the ages.
Stepping into Sovana is like stepping into the pages of an enchanting fairy tale set in the Middle Ages. Flourishing as a vital center during this era, Sovana held the seat of the local bishop and prospered under the rule of illustrious counts and lords. Enduring the trials of time, wars, and the challenges of malaria, Sovana remains an exceptional and alluring example of a medieval town.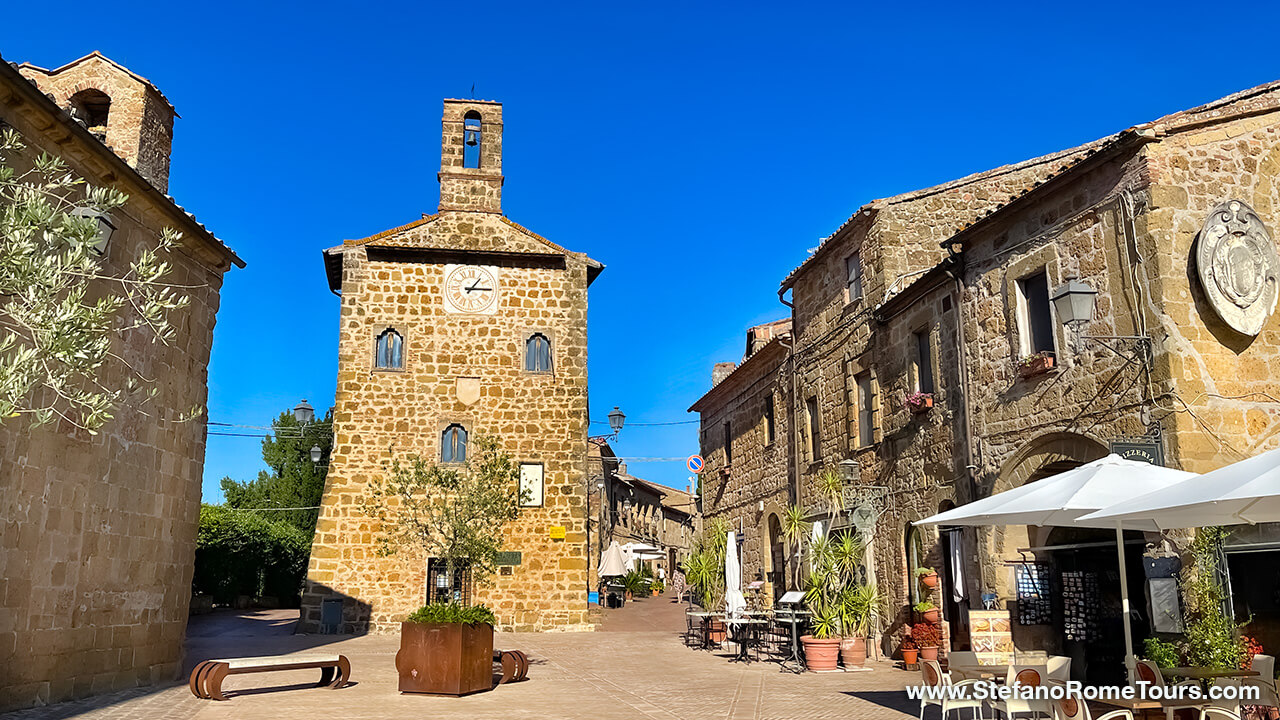 Discover the charming Piazza del Pretorio, renowned as one of Italy's 100 most captivating squares. Adorned with buildings displaying warm hues reminiscent of butterscotch, they proudly rest upon foundations dating back to the 8th century. The traditional terracotta brick pavement, arranged in a charming herringbone pattern, creates a scene of timeless beauty. Within this picturesque setting, you'll encounter the 8th-century church of Santa Maria, Palazzo dell'Archivio, the Loggia del Capitano, and Palazzo del Pretorio.


Scroll down and read more about what to see and do in Sovana during your visit.


A visit to Sovana is a journey into the very heart of history, where legends breathe life amid the charming beauty of a village steeped in timeless wonder.
Your unforgettable shore excursion through the mystical wonders of Pitigliano and Sovana draws to a close at 3:30 PM as you will bid adieu to these hidden gems of Tuscany's Maremma region and reunite with your driver for a scenic drive back to your cruise ship in Civitavecchia.
Relish the leisurely ride through the picturesque countryside as you head towards the cruise port, reflecting on the enchanting beauty and rich history you've immersed yourself aiming to arrive at the port by approximately 5 PM.
Thank you for booking our Mystical Tuscany: Pitigliano and Sovana Tour from Civitavecchia, and choosing Stefano Rome Tours for your private Italy excursions. We take immense pride in crafting unique adventures for our valued guests and we are thrilled to share the magic of Tuscany's heritage with you
We look forward to meeting you in Italy, where new adventures and discoveries await.
Important Information
Please READ the important information below as well as Read & Accept our TERMS OF SERVICE and Privacy Policy prior to placing your reservation request(s).



PAYMENT OPTIONS:
Payment for this Majestic Tuscany Tour can be made in Euro funds at the end of your journey directly to your driver, or you may prepay in advance via PayPal or Credit Card upon request.


CANCELLATION POLICY:
We kindly ask that cancellations be made at least 7 days in advance in writing via E-Mail. Cancellations by phone, text, or 3rd party who is not the person who booked the service are NOT accepted.
** PREPAID SERVICES can only be Refunded the Net Rate we receive from your prepayment. Net Rate is the actual service price minus the fees retained by PayPal/Credit Card that are not reimbursed to us in case of refunds. We can only refund the portion we receive from the PayPal/CC company.
EMAIL INQUIRIES / BOOKING REQUESTS
Please allow up to 24 hours for email correspondence in response to email inquiries and tour reservation requests.
We reply to ALL emails and booking requests we receive. If you don't receive correspondence from us within 24-48 hours please CHECK YOUR SPAM FOLDER, or send us an email from a different E-mail account.
MEETING POINT AT CIVITAVECCHIA
For shore excursions from Civitavecchia, your driver will meet you on the Pier next to your Ship at your tour's scheduled pick-up time holding a sign with the NAME in your reservation.
Do NOT leave the ship area, and do NOT take a shuttle bus outside the port.
Look for your driver in the same area on the Pier as ALL private drivers will be waiting for their clients. After you meet your driver you will be accompanied to your vehicle and your Rome private shore excursion will begin with a leisurely drive from Civitavecchia to Rome.


YOUR STEFANO ROME TOURS DRIVER


This Pitigliano and Sovana Shore Excursion from Civitavecchia provides an English-speaking Driver who is NOT a Licensed Tour Guide.
Italy has strict laws and regulations aimed to protect official licensed guides that make it unlawful for Drivers to act as tour guides or accompany guests to sightsee on foot away from the vehicle. In order for us to comply with Italy's laws, Drivers are required to remain with the vehicle while guests sightsee on their own away from the vehicle.
During this tour you will SELF TOUR (unaccompanied by your driver) when away from the vehicle.
Interesting Things to See & Do in Pitigliano on this Tour





Explore Pitigliano's Piccola Gerusealemme (Little Jerusalem)
Adding to its compelling history, Pitigliano is affectionately known as "Little Jerusalem" (Piccola Gerusalemme), owing to its vibrant Jewish community that sought refuge during the upheavals of the Counter-reformation in Rome. The Jewish influence is evident in the "forno delle azzime," a Passover matzoh bakery, nestled within a cave.
Though only a few Jewish residents remain, the Jewish ghetto on Via Zuccarelli serves as a poignant reminder of their enduring legacy. The restored Synagogue, dating back to 1598, invites visitors to explore and worship, while rock-hewn cellars for Kosher wine production and ritual baths offer glimpses into their vibrant past.


Indulge in a delicious "Sfratto di Pitigliano"
Indulge your taste buds with the delectable "Sfratto di Pitigliano," a local sweet delicacy enclosed in a crisp doughy shell shaped like a baton, blending flavors of walnuts, honey, nutmeg, orange peel, and anise.

The "Sfratto di Pitigliano" holds a captivating history and a legendary tale that intertwines with the town's past. During the tumultuous times of the 16th century, the Grand Duke of Tuscany, Cosimo II de Medici, issued an edict for Jews from neighboring towns like Sovana and Sorano to resettle within Pitigliano between Via Zuccarelli and the southern city walls. The neighborhood became known as the Jewish ghetto, the decree earned the name sfratto, meaning eviction in Italian.
It is said that during the eviction process, officials would knock on the doors of Jewish homes with a stick. In commemoration of this event and as a testament to their resilience, the Jewish community of Pitigliano created the "Sfratto di Pitigliano". This exquisite pastry not only pays homage to their history but also represents a celebration of their enduring spirit amid adversity.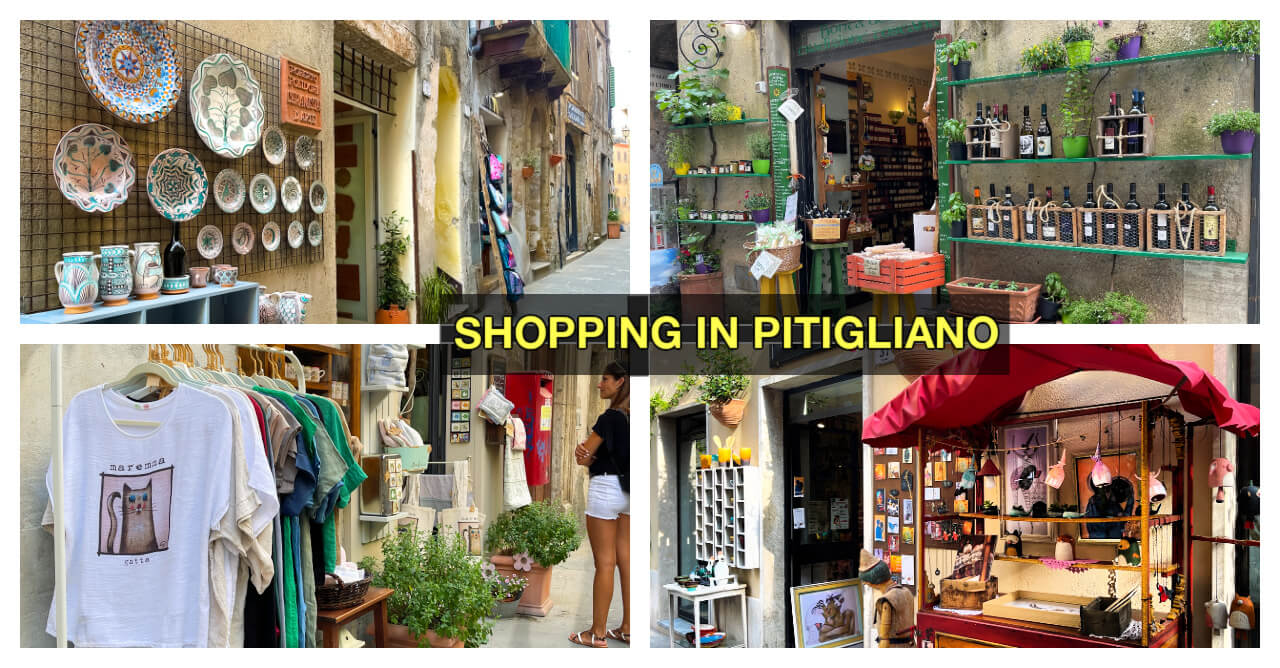 Shopping in Pitigliano
Navigating this picturesque town is a breeze, with two primary thoroughfares, Via Roma and Via Zucarelli, extending parallel to each other for several city blocks. These streets intersect at their distant ends, offering a perfect circular route. Start your leisurely journey along Via Roma, and as you head back on via Via Zucarelli, you'll find the town's shopping gems awaiting your discovery.
Here, a shopaholic's paradise unfurls, with a delightful array of boutiques vying for your attention. Crafted by artisans, each establishment boasts its own allure, beckoning you to explore, Hand-crafted hats and supple leather goods, artist-made ceramics that capture the essence of creativity, clothing shops that brim with unique pieces, hand-made jewelry that whispers tales of craftsmanship and elegance, and irresistible souvenirs as tokens of your visit in Pitigliano.
Perchance, the aromas wafting from the bakeries draw you in, where delectable treats stand ready to delight your taste buds. Gastronomic boutiques offer an indulgent journey for your palate, showcasing the region's culinary treasures. Indeed, this town's shopping tapestry weaves a narrative of discovery and delight for every visitor.


Enjoy lunch in Pitigliano
Pitigliano boasts excellent restaurants that serve delicious local cuisines for a wonderful relaxing lunch.



Interesting Things to See & Do in Sovana on this Tour: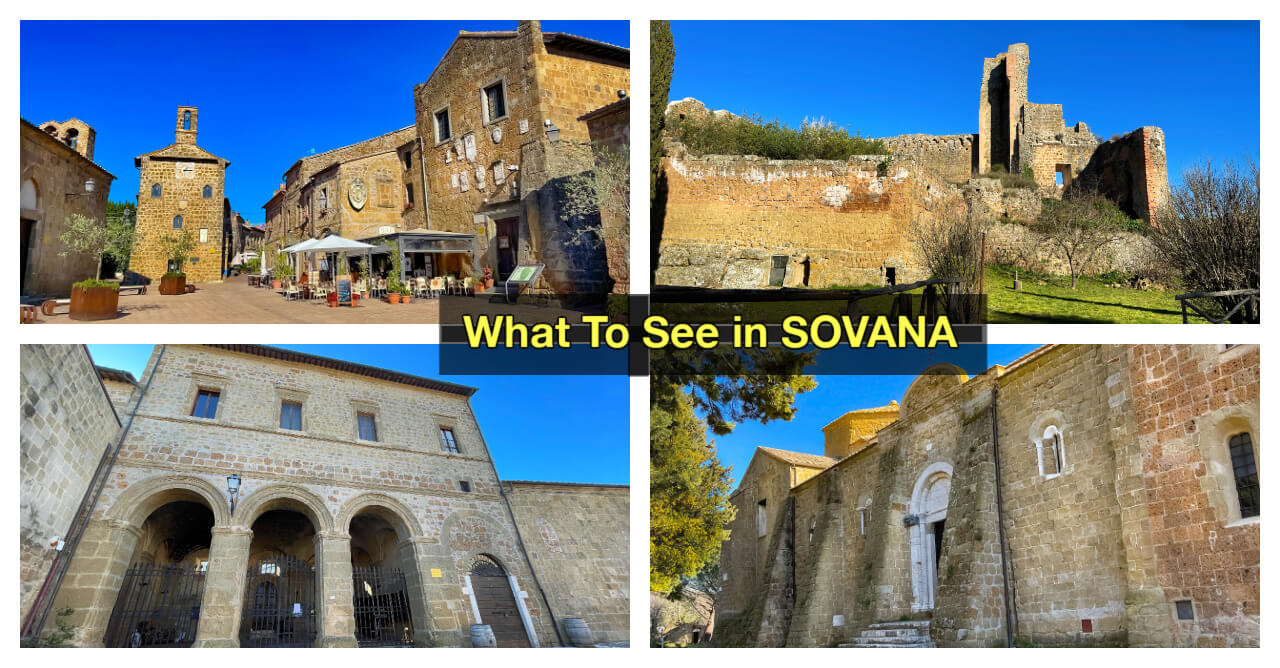 See Palazzo dell'Archivio
With its origins tracing back to the 12th century, the Palazzo Comunale, also referred to as the Palazzo dell'Archivio, emerged as the focal point of Sovana's municipal life, embodying the town's resurgence after the pinnacle of its Etruscan era. Proudly gracing the western perimeter of Piazza del Pretorio, the main facade serves as a gateway to history, encapsulating the essence of bygone eras.
The large clock, now a distinguished element, was added in 1588. In the 17th century, the palazzo was crowned by the bell tower. The palazzo evolved into the official city archive, housing a documentation center that weaves the intricate tapestry of Sovana's history and archaeology.


See the Praetorian Palace
At the center of the square, attention converges upon the Praetorian Palace, a time-honored vestige from the 12th century. Its architecture, an unwavering rectangle, has been subject to a myriad of transformations over the passage of time. Decorating its exterior are elaborate adornments—symbols depicting the Captains of Justice entwined with the illustrious Medici heritage.


Visit the Church of Santa Maria Maggiore
In the heart of Piazza del Pretorio, there stands the Church of Santa Maria Maggiore. While the façade may not demand immediate awe, its true magic resides within. Venture into the sanctuary's embrace to discover a precious antiquity—a beautifully preserved pre-Romanesque ciborium, a regal canopy poised over the altar, its weight gracefully upheld by four majestic pillars.
Wander further, and 15th-century frescoes come to life upon the walls, a vivid panorama of artistic heritage suspended in time. The ciborium, believed to have been repurposed from the former San Mamiliano church, embodies the enduring spirit of sacred craftsmanship, a legacy echoing through the annals of time.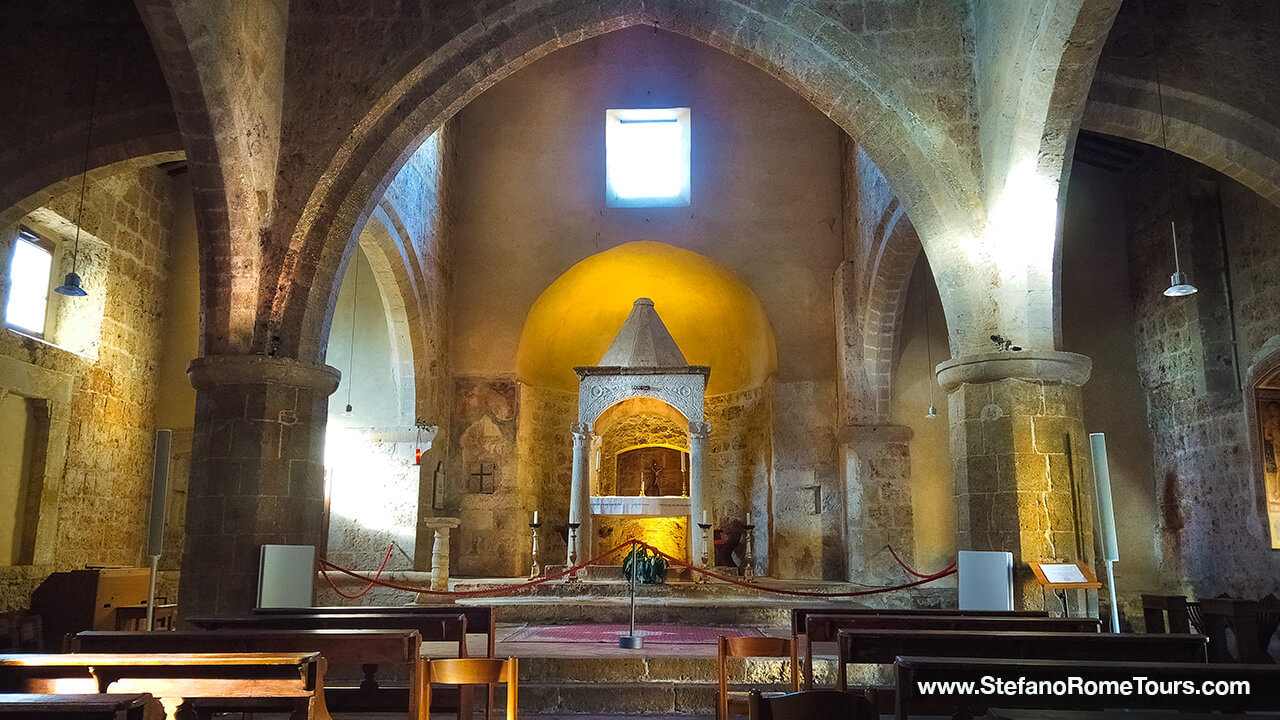 Visit the Sovana Cathedral of St Peter
Standing over the believed site of the original Etruscan acropolis, the Romanesque and Gothic Cathedral of St. Peter stands as a majestic marvel of architectural harmony and sculptural brilliance. Its Gothic doorway, adorned with elegant marble embellishments, depicts enigmatic motifs—from sirens with double tails to spiraling human figures, intricate floral patterns, and a series of geometric bas-reliefs intertwined with medieval spirituality.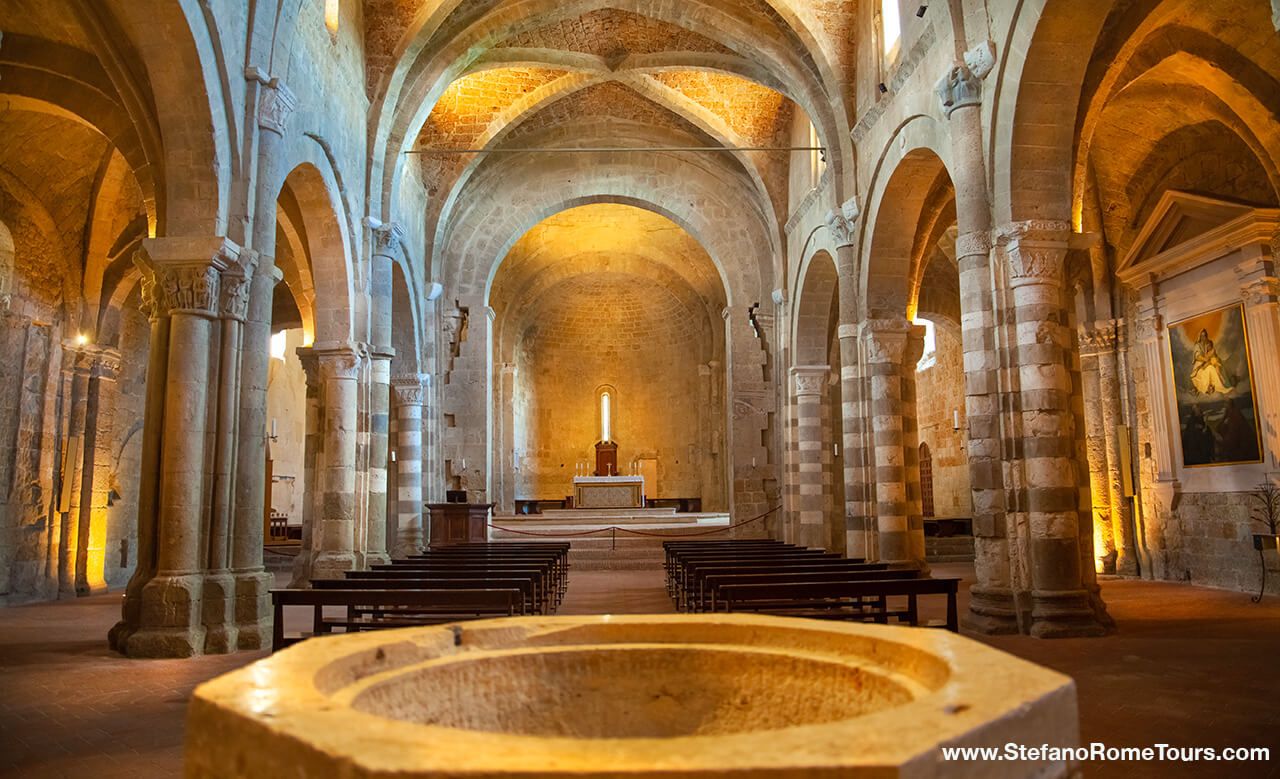 ADMISSION TICKETS to various attractions in Pitigliano and Sovana:


If you wish to visit any of these sites in Pitigliano and Sovana, they require admission tickets.
** Ticket prices are subject to change without notice.
"La Piccola Gerusalemme" / Little Jerusalem in Pitigliano
Ticket Price: 5 EUROS per person
CLOSED on Saturdays, Jewish holidays, and Christmas Day


Museum of Orsini Palace in Pitigliano
Ticket Price: 5 EUROS Per Person


Cathedral of St. Peter in Sovana
Ticket Price: 2.50 EURO Per Person
St Peter Cathedral in Sovana is open in the afternoon between 14:30 - 19:00
January & February: only on Saturday and Sunday


COMBO TICKETS
You may purchase Combo Tickets to visit the Museum of Orsini Palace in Pitigliano and the Cathedral of St Peter in Sovana. Please ask at the reception desk at the Orsini Palace Museum.
Combo Ticket Price: 6 EUROS Per Person