description
Please CONTACT US via Email for availability and booking information

PISA AND LUCCA TOUR PRICE LIST
FROM LIVORNO CRUISE PORT
For up to 4 Persons from Livorno Port: 750 EUROS
For up to 6 Persons from Livorno Port: 800 EUROS
For up to 8 Persons from Livorno Port: 900 EUROS

FROM LA SPEZIA CRUISE PORT
For up to 4 Persons from La Spezia Port: 800 EUROS
For up to 6 Persons from La Spezia Port: 900 EUROS
For up to 8 Persons from La Spezia Port: 1,000 EUROS


Enjoy a visual journey of our Pisa and Lucca Tour VIDEO:


On this Stefano Rome Tours Shore Excursion into Tuscany from the port of Livorno or La Spezia, you will have the opportunity to visit two of Tuscany's most famous cities that are rich in history, culture, charm and architecture: Pisa and Lucca.


PISA

On your Pisa and Lucca Shore Excursion you have the opportunity to visit Italy's most well recognized city of Pisa.
There is more to Pisa than just the iconic "Leaning Tower of Pisa" known as one of Italy's most famous sites and top tourist attractions, Pisa itself is a city with history rooted into ancient times and shrouded in legends.
Romans themselves referred to Pisa as being ancient, and legends speak of the mythical king of Pylos following the fall of Troy.
In more modern times, Pisa was a dominating commercial center that rivaled the formidable cities of Venice and Genoa. The commercial boom helped create the Pisan-Romanesque architecture that continue to inspire the locals and visitors alike.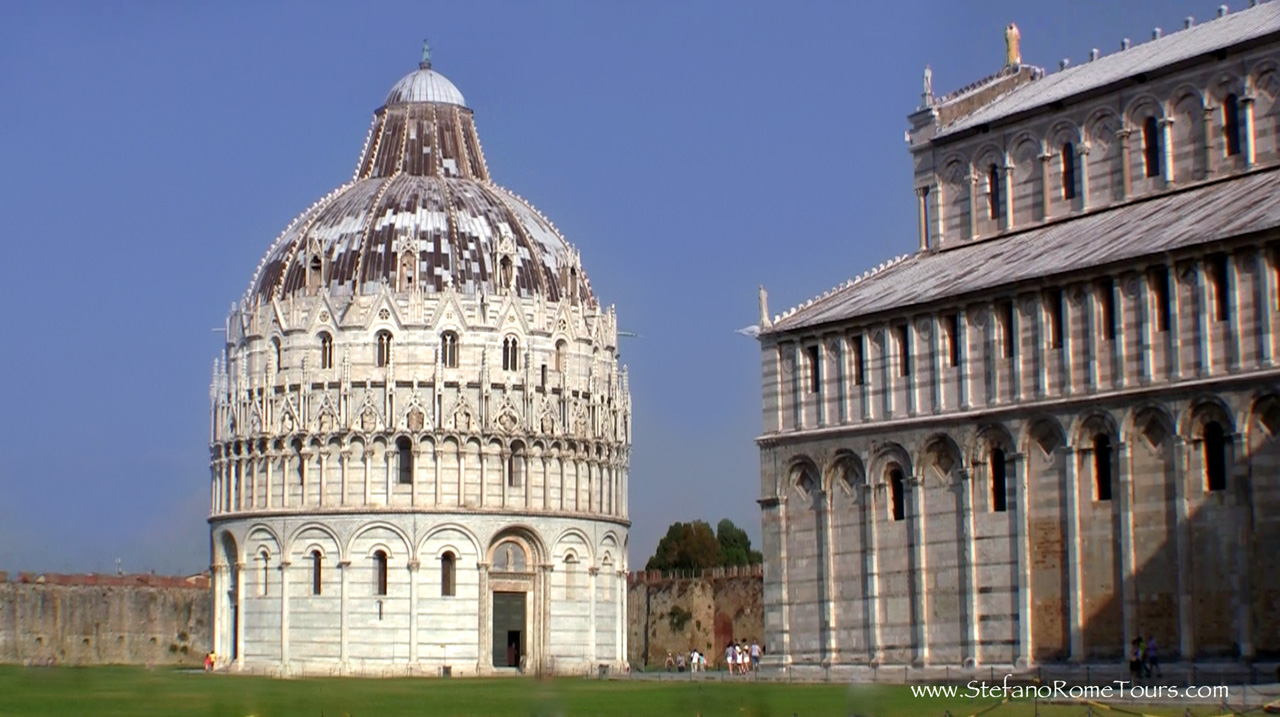 The famous place to visit in Pisa is Piazza dei Miracoli (Square of the Miracles) where you will see the architectural beauty of the iconic Leaning Tower of Pisa, the Cathedral, and the Baptistery.
These imposing religious monuments are recognized not only as among the leading centers for medieval art, but also listed as a UNESCO Heritage Site in 1987.
The Leaning Tower of Pisa is one of the most popular photo opportunity sites as thousands of people pose for photos propping up the leaning tower of Pisa. Have fun, and don't forget to bring your own camera and be creative on your photo shoot!
LUCCA


From Pisa your excursion will continue with a leisurely drive through the splendid countryside of Tuscany to Lucca, a charming medieval town with Romanesque style palaces (palazzi in Italian) and churches, ancient Roman monuments, and unforgettable piazzas.
As with many Italian towns, Lucca boasts a rich history dating as far back to the pre-Roman civilization known as the Etruscans who settled here thousands of years ago.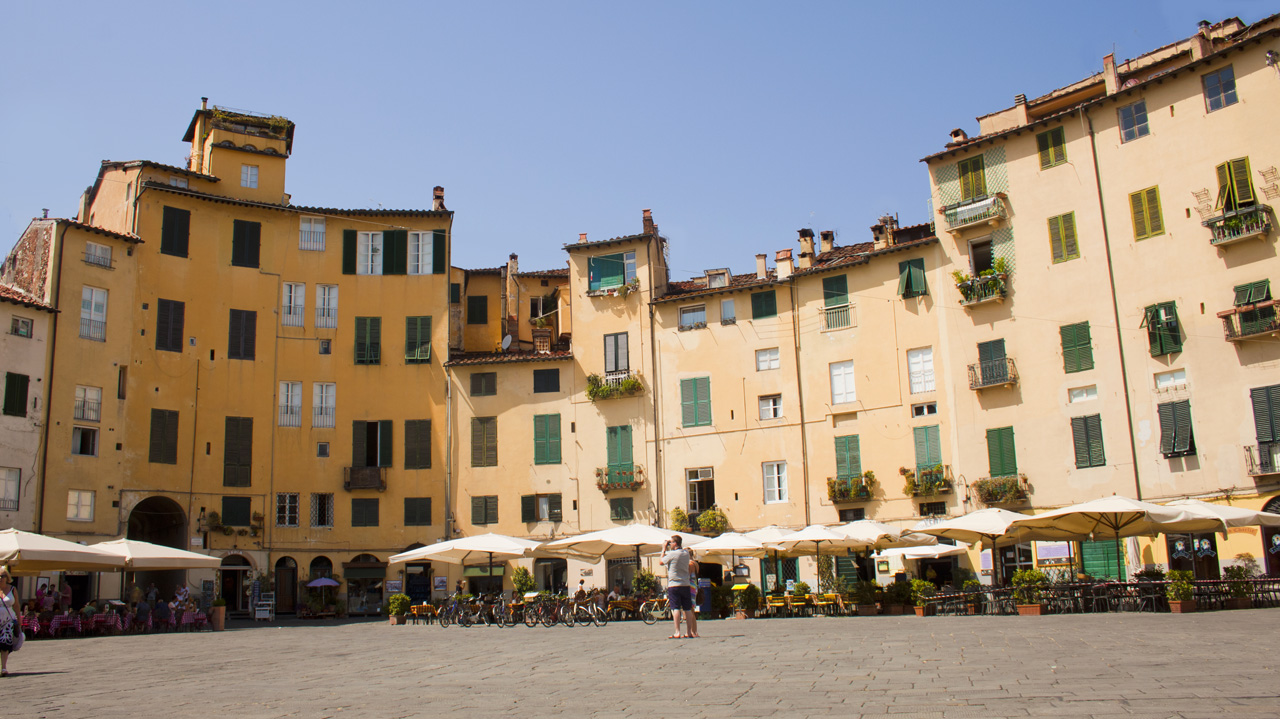 The influence of Ancient Rome on Lucca is evident the moment you set foot in the famous Piazza dell' Anfieatro, the elliptical square that took on the outline of the 2nd century AD Roman amphitheater that once stood here. Remnants of the ancient structure are still visible in the stones that peek out from medieval buildings that were incorporated into the ancient ruins.
This lively piazza popular among locals of Lucca is surrounded by open air cafes, shops and boutiques.
The flat narrow lanes conceptualized during the medieval times are lined with shops of all varieties making for a splendid stroll to shop, admire medieval buildings and beautiful Renaissance architecture, and take in the local atmosphere that makes Lucca so enchanting.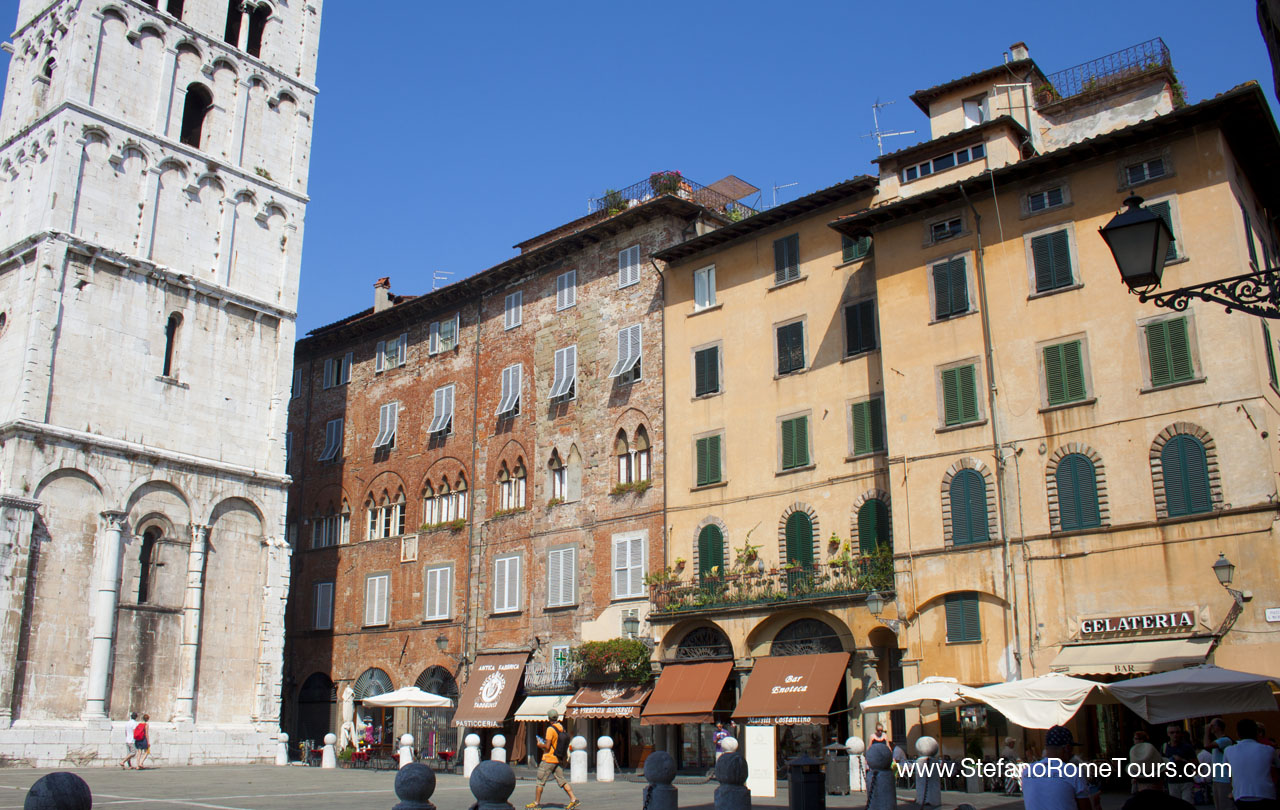 Lunch is delicious at any restaurant in Lucca, as Tuscans take huge pride in their culinary mastery.
You will be delighted to see that the major form of getting around within the town of Lucca are bicycles, thanks to the flat terrain upon which Lucca was founded.
From Lucca you will enjoy a relaxing drive back to your ship in Livorno.
Thank you for choosing Stefano Rome Tours for your Italy Private Excursions. We look forward to showing you Tuscany!

** TOURING FROM LA SPEZIA? La Spezia Port is farther away from Pisa and Florence than Livorno Cruise Port, therefore additional driving time is required to and from your destinations. The additional driving time would reduce your overall sightseeing time available in Pisa and Florence in order to accommodate the ship's docking schedule in La Spezia. Please see below the Meeting Point to meet your driver at La Spezia Port.
Important Information

Please READ the important information below as well as Read & Accept our TERMS OF SERVICE and Privacy Policy prior to placing your reservation request(s).



PAYMENT OPTIONS for Pisa and Lucca Tour:
Payment can be made in Euro funds at the end of your journey directly to your driver, or you may prepay in advance via PayPal or Credit Card online when you Confirm your Tour.
CANCELLATION POLICY:
We kindly ask that cancellations be made at least 7 days in advance in writing via E-Mail. Cancellations by phone, text, or 3rd party who is not the person who booked the service are NOT accepted.
** PREPAID SERVICES can only be Refunded the Net Rate we receive from your prepayment. Net Rate is the actual service price minus the fees retained by PayPal/Credit Card that are not reimbursed to us in case of refunds. We can only refund the portion we receive from the PayPal/CC company.
EMAIL INQUIRIES / BOOKING REQUESTS
Please allow up to 24 hours for email correspondences in response to email inquiries and tour reservation requests.
We reply to ALL emails and booking requests we receive. If you don't receive correspondence from us within 24-48 hours please CHECK YOUR SPAM FOLDER, or send us an email from a different E-mail account.


PISA VISIT
To have sufficient time to enjoy Florence on your shore excursion, your Pisa visit will NOT include climbing the leaning tower of Pisa.
Climbing the tower of Pisa requires admission tickets to be booked in advance online, reducing the time spent sightseeing in Lucca.


YOUR STEFANO ROME TOURS DRIVER
This tour provides an English-speaking Driver who is NOT a Licensed Tour Guide.
Italy has strict laws and regulations aimed to protect official licensed guides that makes it unlawful for Drivers to act as tour guides or accompany guests to sightsee on foot away from the vehicle. In order for us to comply with Italy's laws, Drivers are required to remain with the vehicle while guests sightsee on their own away from the vehicle.
On this Pisa and Lucca Tour by car you will SELF TOUR (unaccompanied by your driver) when away from the vehicle.
You will be dropped off as close to the sites as possible in accordance with municipality and traffic laws.

WHERE TO MEET YOUR DRIVER AT THE CRUISE PORTS

For Shore Excursions from Livorno:
Your driver will meet you on the Pier next to your Ship at your Tour starting time, holding a sign with the NAME in your reservation.
Please do NOT leave the ship area, and do NOT take a shuttle bus to exit the port.

For Shore Excursions from La Spezia:
Due to the port's small size and security restrictions, vehicles are NOT permitted to enter the port of La Spezia. Cruisers are required to take a shuttle bus from their ship and exit the cruise port. Your driver will meet you at the Bus Stop holding a sign with the name in your tour reservation.


TOUR SHARING FROM LIVORNO / LA SPEZIA CRUISE PORT
SAVE a lot on this Pisa and Lucca Shore Excursion from Livorno or La Spezia by sharing your tour with fellow cruisers for up to 7-8 guests per minivan! It's easy: just place an ad on Cruise Critic roll call and invite others to join you. Share the fun and the expense. LEARN MORE ABOUT TOUR SHARING