description
HISTORIC ABBEYS TOUR PRICE LIST

DAY TOUR FROM ROME HOTEL:
For up to 4 Persons from Rome Hotel: 500 EUROS
For up to 6 Persons from Rome Hotel: 550 EUROS
For up to 8 Persons from Rome Hotel: 600 EUROS
* DATES on the Booking Form Calendar that are NOT Selectable, are NOT AVAILABLE.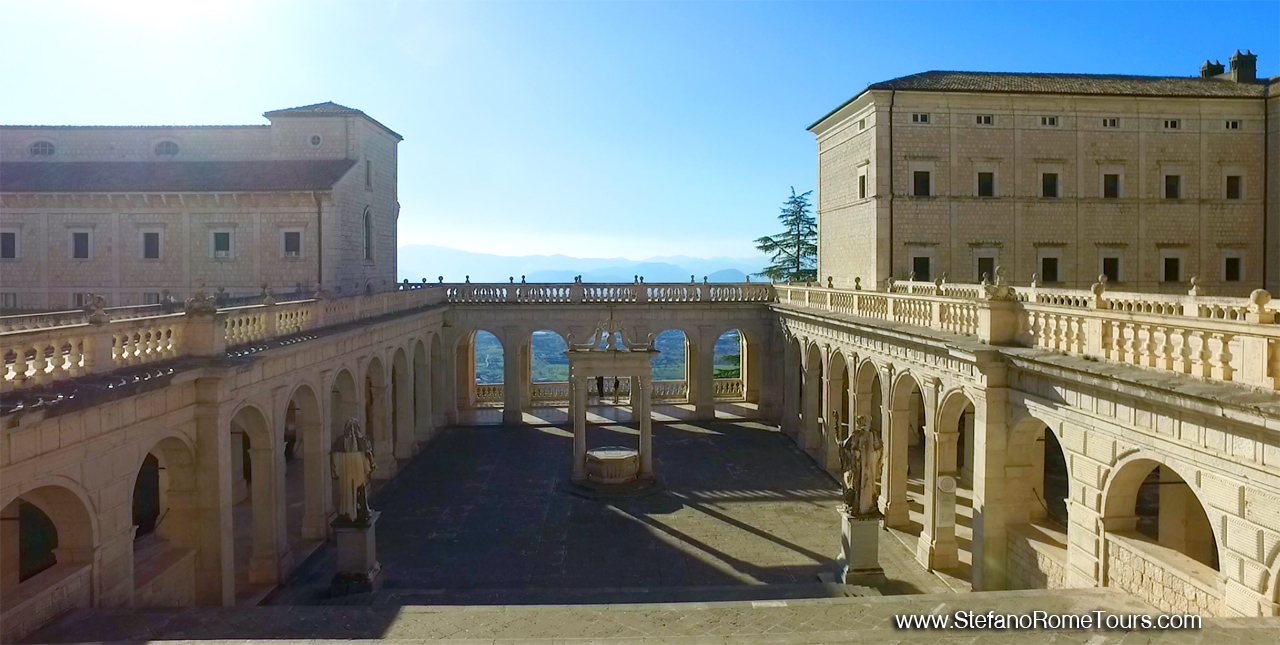 This Stefano Rome Tours exclusive day tour is created for discerning travelers who seek to elevate their Italian holiday to greater spiritual and cultural heights and experience the moment when the fine line between man and divine blur.
You will have the opportunity to experience two of Italy's most extraordinary Abbeys: Montecassino and Casamari, both rich in historic, spiritual, and cultural significance.
MONTECASSINO ABBEY - the elegant Renaissance cloister with majestic views


Your Historic Abbeys Tour begins with a relaxing drive through the countryside to your first destination: Montecassino Abbey.
Considered the oldest and most famous of monasteries in Europe, Montecassino was founded by Saint Benedict in 529 AD as a simple chapel built upon the pagan Temple of Apollo.
Over the centuries it has evolved into a beacon of knowledge and culture where throughout the Middle Ages monks dutifully practiced and advanced the art of medicine (and founded the school of medicine in Salerno), music, philosophy, and translated ancient Latin and Greek works that became famous worldwide.
Like the proverbial ancient oak broken by storms but tenaciously continued to grow stronger than ever, so has the monastery which has suffered multiple destructions by earthquakes and human brutality.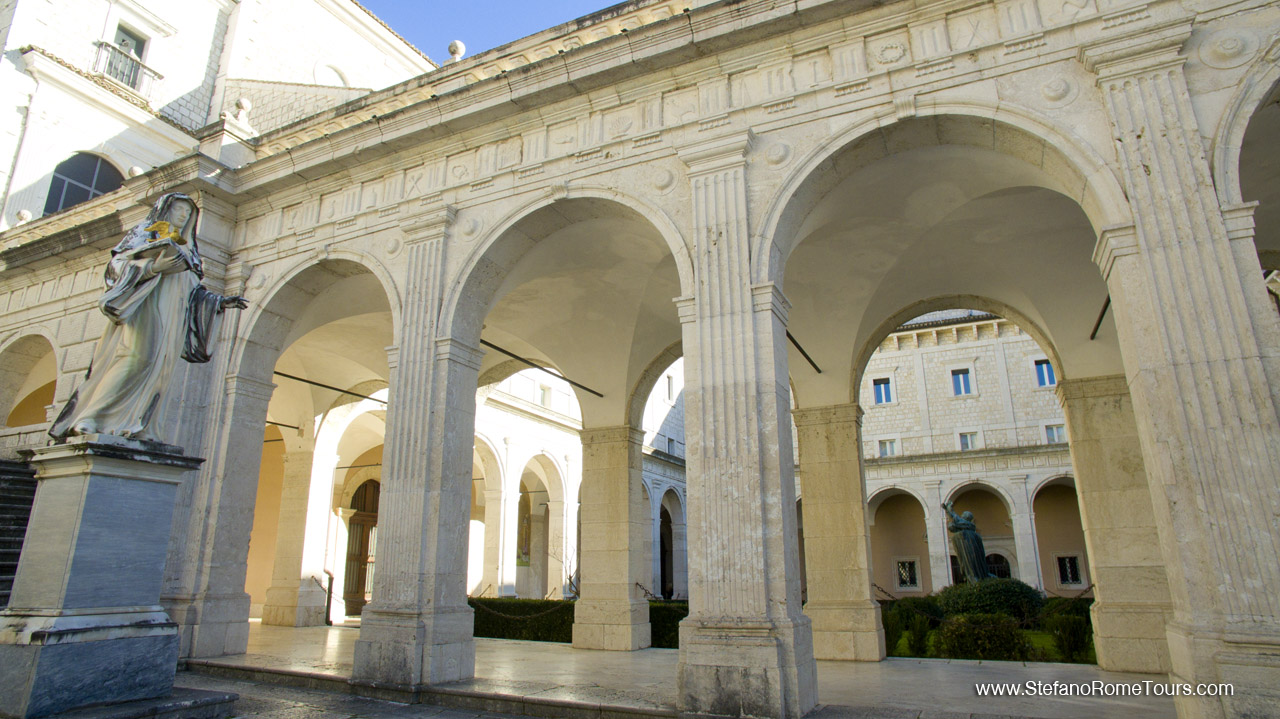 In 577 AD the monastery was destroyed by the Longobards, in 883 it was sacked and burned by the Saracens, in 1349 it was demolished by a strong earthquake, and more recently it was severely bombed in 1944 during the final stage of WWII.
Each time tenacious followers and devoted monks rebuilt the monastery even more formidable than its previous incarnation and enriched it with stunning art, mosaics, and precious enamels.
After its final destruction in WWII, the monastery was rebuilt to its previous imposing Medieval Era splendor according to the ancient architectural plans.
The interior of the monastery will surprise you with spacious cloisters, archways, and balustraded balconies overlooking the valley.
The center of the main Bramante cloister showcases an octagonal well at the bottom of the staircase that is flanked by a statue of St Benedict and his sister St Scholastica.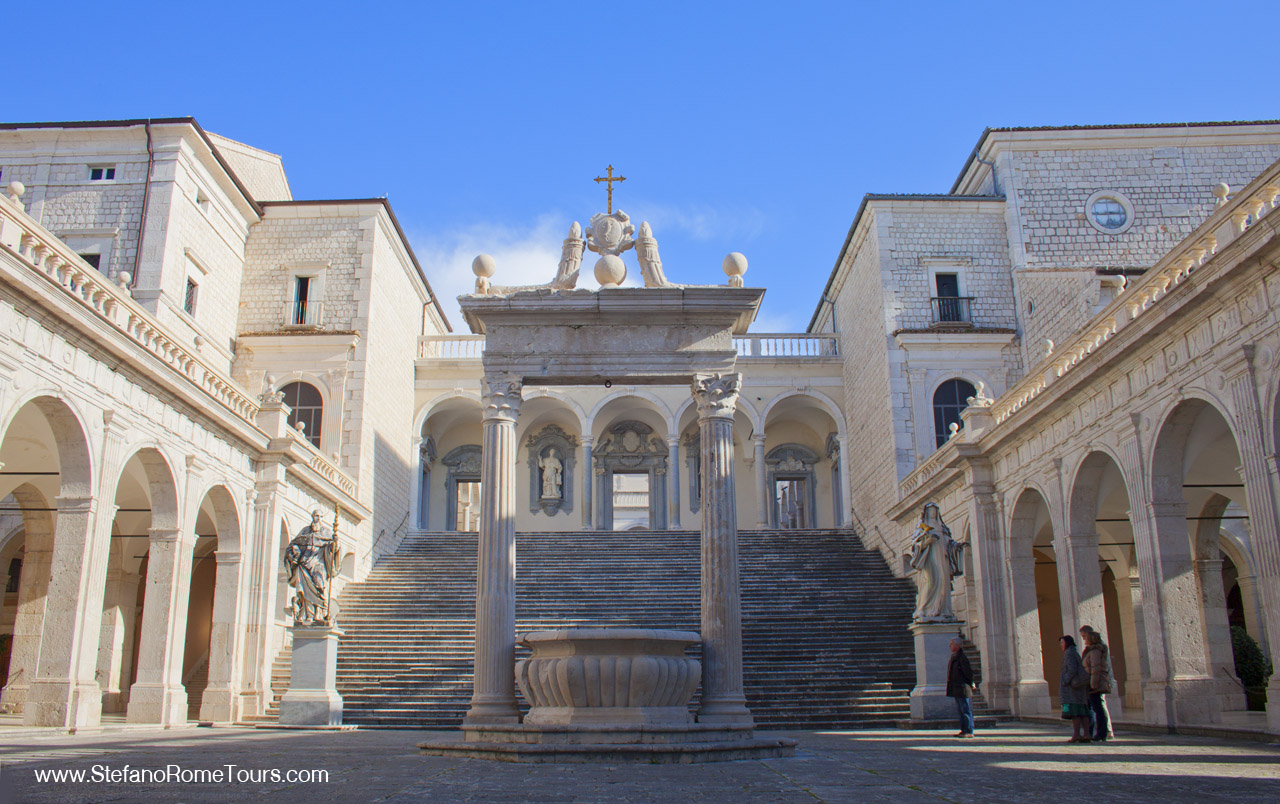 Standing on the top of the staircase you have another breathtaking view of the valley beyond and the cloister below.
From here you step into another cloister that invites you to enter the Basilica that is a remarkable masterpiece of frescoes, mosaics and elegant embellishments.
Below the altar is a 16th century crypt carved into the rock of the hill and adorned with precious mosaics.
After your visit to Montecassino you will welcome some free time to lunch at a local restaurant in the area.
CASAMARI ABBEY - the secluded Benedictine monastery


Your Historic Abbeys tour continues to the next beautiful monastery, Casamari.
Once you enter through the gateway of the tall walls that surround the abbey, you will be welcomed by a garden courtyard that embraces you and draws you towards the stairway to the church and the earthy stone monastery.
You will have the special opportunity to sample the spiritual monastic life of the Cistercian monks and the fruit of their labors.
As with Montecassino, the history of Casamari extends as far as Ancient Rome as it stands on the site of the ancient Roman municipium of Cereatae that was dedicated to the goddess Ceres.
This was also the birthplace of the Roman consul Caius Marius whose political career helped transform Rome from a Republic to Imperial during the 1st century BC. The name Casamari translates to the "house of Marius".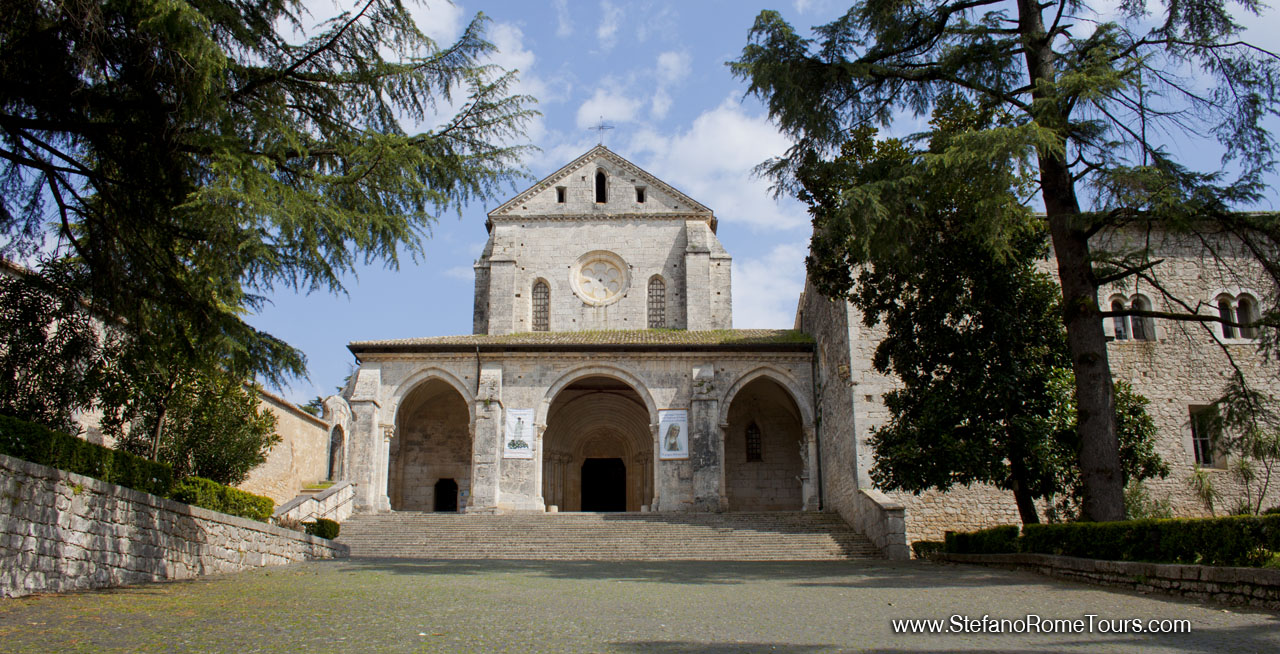 Remnants of its ancient past are still visible inside the abbey museum and throughout its gardens where you will notice bits and pieces of ancient columns and other discoveries.
The Benedictine monastery was established here in the early 11th century. Through the initiative of St Bernard of Clairvaux in 1134, the abbey became the direct daughter house of St Bernard's Abbey of Clairvaux and incorporated into the Order of Citeaux.
The Cistercian monks rebuilt the monastery in 1203 according to the austere Cistercian style of unadorned columns, vaulted ceilings and small stained-glass windows that was standard to prevent distraction and ostentation.
The monastery is similar in style to many of its French counterparts and it is one of the most significant examples of Gothic Cistercian architecture in Italy.
A beautiful cloistered courtyard with a well in its center adds a sense of gentle serenity and nature in the midst of this formidable stone monastery.
History has not been kind to this abbey as it withstood a siege in the early 15th century, leadership crisis, closure by Napoleon in 1811, and confiscation of its assets in 1873. Despite the hardships the devoted monks remained, and the abbey was extensively restored following WWII.
Currently the Abbey of Casamari is the home of a small number of about 20 members of the Cistercian community who continue their devotion to the monastic life and earn a living at the abbey to sustain themselves and their missions worldwide.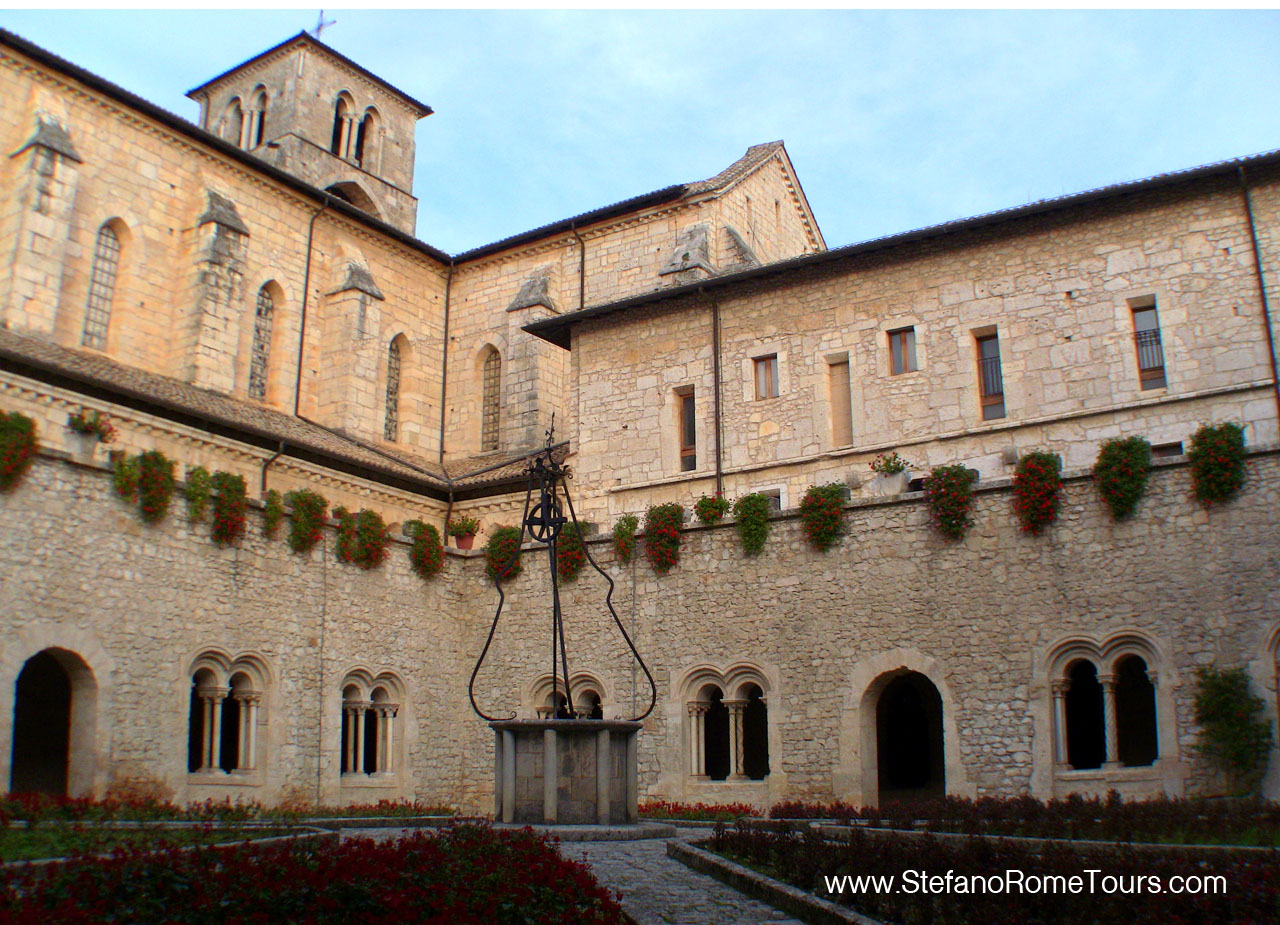 The public is invited to visit the abbey museum that beautifully showcases amazing Ancient Roman artifacts discovered on site, and the pharmacy and liquor distillery operated by the monks that offer a great assortment of authentic hand crafted gifts, medicinal products, liquors, honeys, digestives and more.
Your Historic Abbeys tour concludes here, and you will enjoy a drive in the rustic countryside back to your accommodation in Rome.
We thank you for booking our Historic Abbeys Tour and for choosing Stefano Rome Tours for your tours and shore excursions in Rome and beyond. We look forward to showing you our beautiful Italy!
Important Information

Please READ the important information below as well as Read & Accept our TERMS OF SERVICE and Privacy Policy prior to placing your reservation request(s).


PAYMENT OPTIONS for Historic Abbeys Tour:
Payment for this Historic Abbeys Tour can be made in Euro funds at the end of your journey directly to your driver, or you may prepay in advance via PayPal or Credit Card online when you Confirm your Tour.
CANCELLATION POLICY:
We kindly ask that cancellations be made at least 7 days in advance so we can rebook your service and your reserved driver does not lose work for that day. We thank you for your cooperation and consideration.
** PREPAID SERVICES can only be Refunded the Net Rate we receive from your prepayment. Net Rate is the actual service price minus the fees retained by PayPal/Credit Card that are not reimbursed to us in case of refunds. We can only refund the portion we receive from the PayPal/CC company.


EMAIL INQUIRIES / BOOKING REQUESTS
Please allow up to 24 hours for email correspondences in response to email inquiries and tour reservation requests.
We reply to ALL emails and booking requests we receive. If you don't receive correspondence from us within 24-48 hours please CHECK YOUR SPAM FOLDER, or send us an email from a different E-mail account.
YOUR STEFANO ROME TOURS DRIVER
* This Historic Abbeys Tour provides an English-speaking Driver who is NOT a licensed tour guide.
Italy laws permit only licensed tour guides to accompany guests to sightsee on foot away from the vehicle. To be compliant with Italy laws, your driver cannot lawfully guide you into the sites, and will be obliged to remain with the vehicle while you SELF TOUR away from the vehicle.
MEETING POINT TO MEET YOUR DRIVER at your Rome Hotel / Accommodation:


For hotel pick ups, your driver will meet you inside your hotel lobby, or area permitted by your hotel.
For Apartments or B&B's without a lobby, your driver will meet you at your address outside the main entrance.
* If your hotel / accommodation is situated on a street or in an area restricted to vehicle traffic, your driver will park the vehicle as close as lawfully possible, and will meet you on foot at your Address. From there, your driver will accompany you to your parked vehicle. Door-to-door service may not be possible on streets or in areas restricted to vehicle traffic or stops.