description
We invite you to make your visit to Italy an unforgettable experience with our exciting tour that explores the beauty and flavors of Tuscany's Chianti region.
You will discover enchanting vistas of abundant vineyards, silvery green olive orchards, and quintessential Tuscan cypress trees on soft rolling hills and valleys are complemented by the unique flavors of the region's exquisite wines, fresh and fruity olive oil, and local Tuscan delicacies.
On this Enchanting Chianti Tour you will be driven by your personal English-speaking Stefano Rome Tours driver inside your own private deluxe vehicle along the windy country roads of the charming Chianti region with breathtaking panoramas.
Please CONTACT US via Email for availability and booking information
ENCHANTING CHIANTI WINE TOUR PRICE LIST


TOUR FROM FLORENCE HOTEL
For up to 4 Persons from Florence Hotel: 700 EUROS
For up to 6 Persons from Florence Hotel: 750 EUROS
For up to 8 Persons from Florence Hotel: 800 EUROS

* DATES on the Booking Form Calendar that are NOT Selectable, are NOT AVAILABLE.
Enjoy a stroll through the quaint Piazza Matteotti in Chianti's most famous town Greve in Chianti, and a complete wine-tasting and lunch experience at the beautiful Renaissance villa of Vignamaggio, a 400-acre wine estate with luxurious Italian Gardens that boasts a 700-year old historic wine cellar with large barrels of its famous wines age.
Walk in the footsteps of Leonardo da Vinci and Amerigo Vespucci in the beautifully preserved medieval hamlet of Montefioralle, and admire the surrounding Chianti landscape that surely inspired da Vinci when he painted his famous Mona Lisa - who also happened to have been born in villa Vignamaggio that her family called home.
GREVE IN CHIANTI

Your drive will begin with a relaxing drive through Tuscany to your first destination, Greve in Chianti, considered by many the gateway into Chianti and named after the River Greve that runs through it.
Greve in Chianti's history is vast, going stretching all the way to the pre-Roman civilization known as the Etruscans and later dominated by the Ancient Romans themselves.
You will have free time to yourselves to visit the town's unique triangular piazza lined with a medley of medieval buildings enhanced by arched porticos shielding local shops, bakeries, boutiques, local artisan shops, butchers, workshops, enotecas and cafes.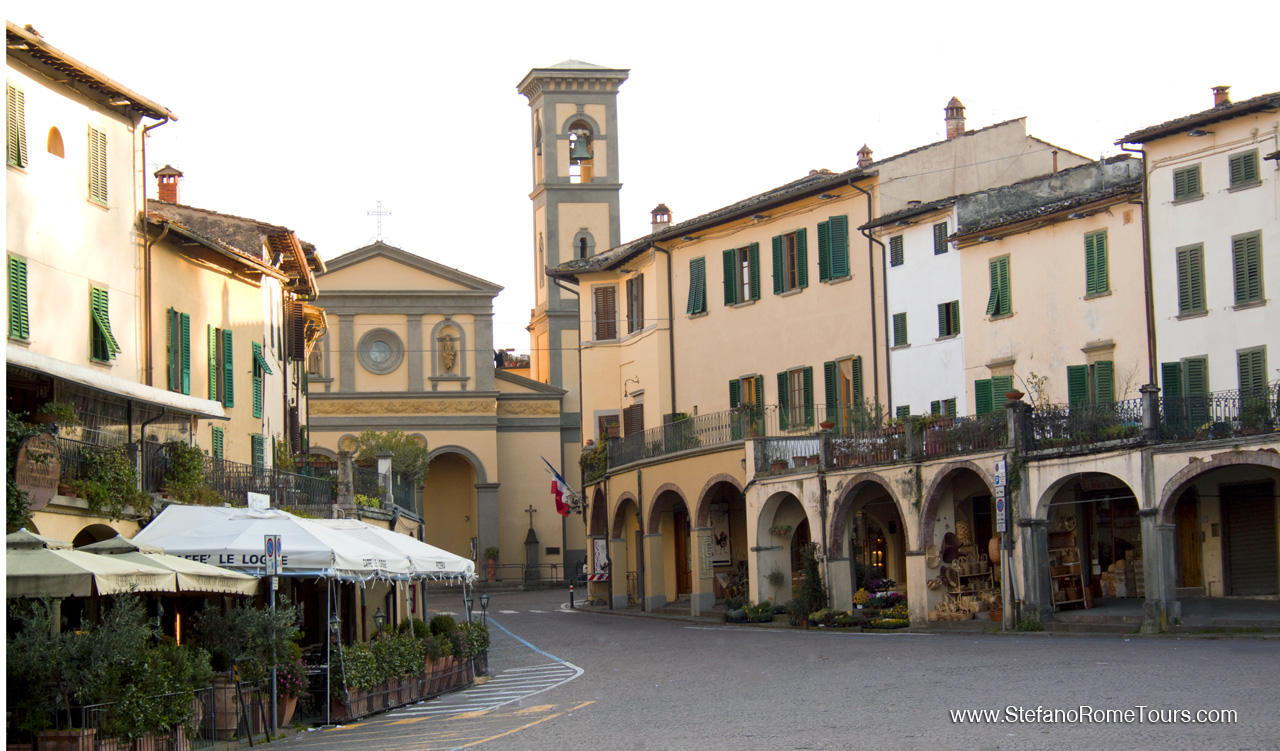 At the farthest end of the square is the 11th-century Church of Santa Croce which has been rebuilt throughout the centuries with its final renovation featuring a new-classical facade.
In the center of the square, tall and proud is a bronze statue dedicated to the locally born Italian explorer Giovanni da Verrazzano who navigated to North America in the early 1500s and explored the coast between the Carolinas up to the New York Harbor.
In this square, you will also find the famous Antica Macellaria Falorni, one of Italy's oldest and most famous Tuscan butcher shops which has been in this location since 1729.
Chianti region is not only renowned for its wine, but also for its meat - among the most unique to the region is the Cinta Senese pig that produces ham of superior quality and flavor.
Other sought-after meats of the region are the wild boar and Chianina - the giant breed of cows that have grazed the meadows of the region since the Etruscan times, and from which the famous Florentine Steak is made.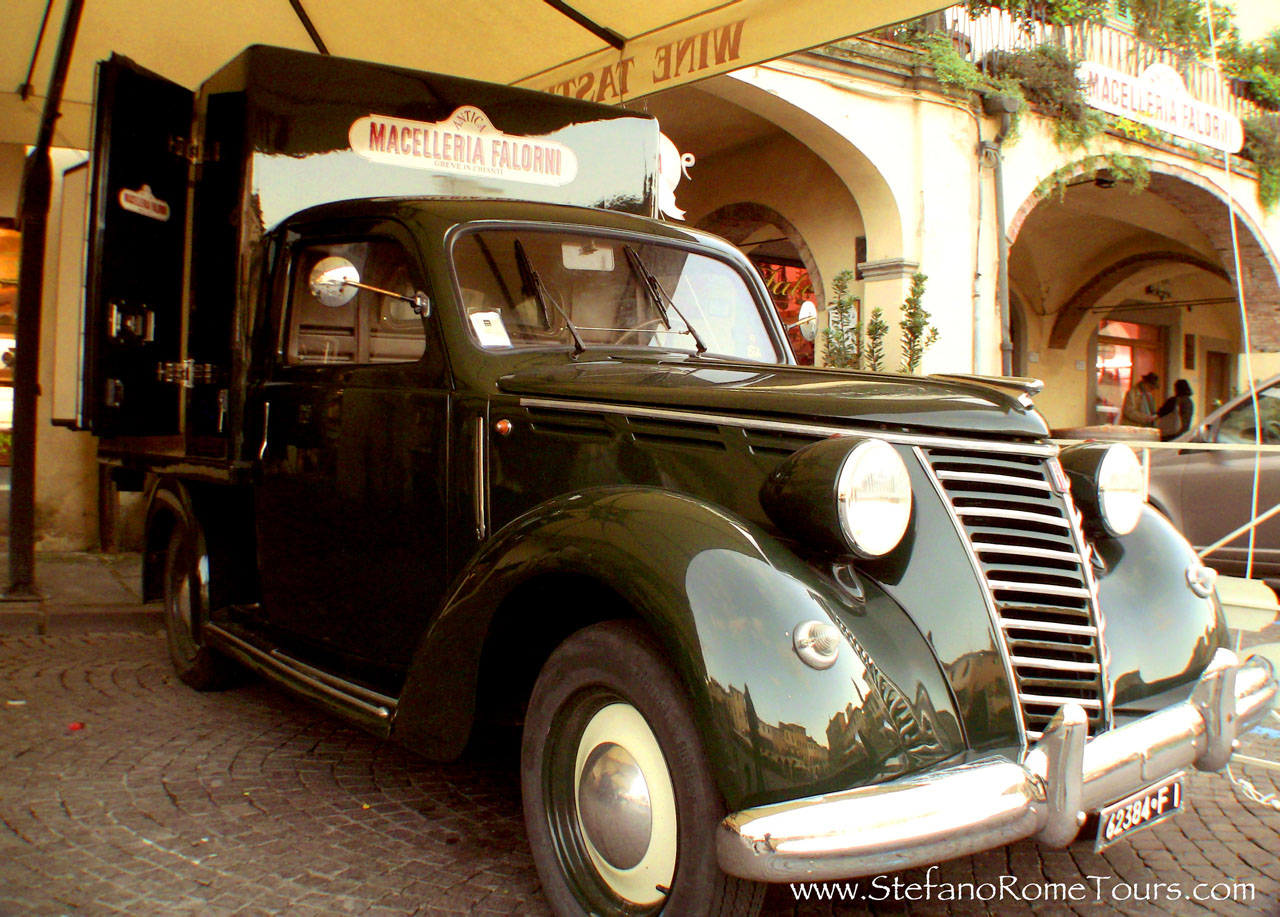 A visit to the macellaria (butcher shop) is not complete without a visit to the cheese cellar below. Wheels of cheese of mouthwatering varieties are on display to tempt your palate. For those wishing to sample some of the delicious products, the macellaria sells "snack size" packages of its various hams, salami, meats, and cheese. All the products are local and prepared according to traditions and recipes generations old.
VIGNAMAGGIO VILLA and WINERY


Your tour through Chianti continues through picturesque country roads surrounded by nature and stunning vistas as you reach your next destination: Vignamaggio Villa and Winery for a wine-tasting experience that includes a guided visit of the 700-year-old wine cellar and the lush Italian Gardens.
You will have the opportunity to sample various wines produced by the winery from the vineyards that surround it, and enjoy a traditional Tuscan lunch.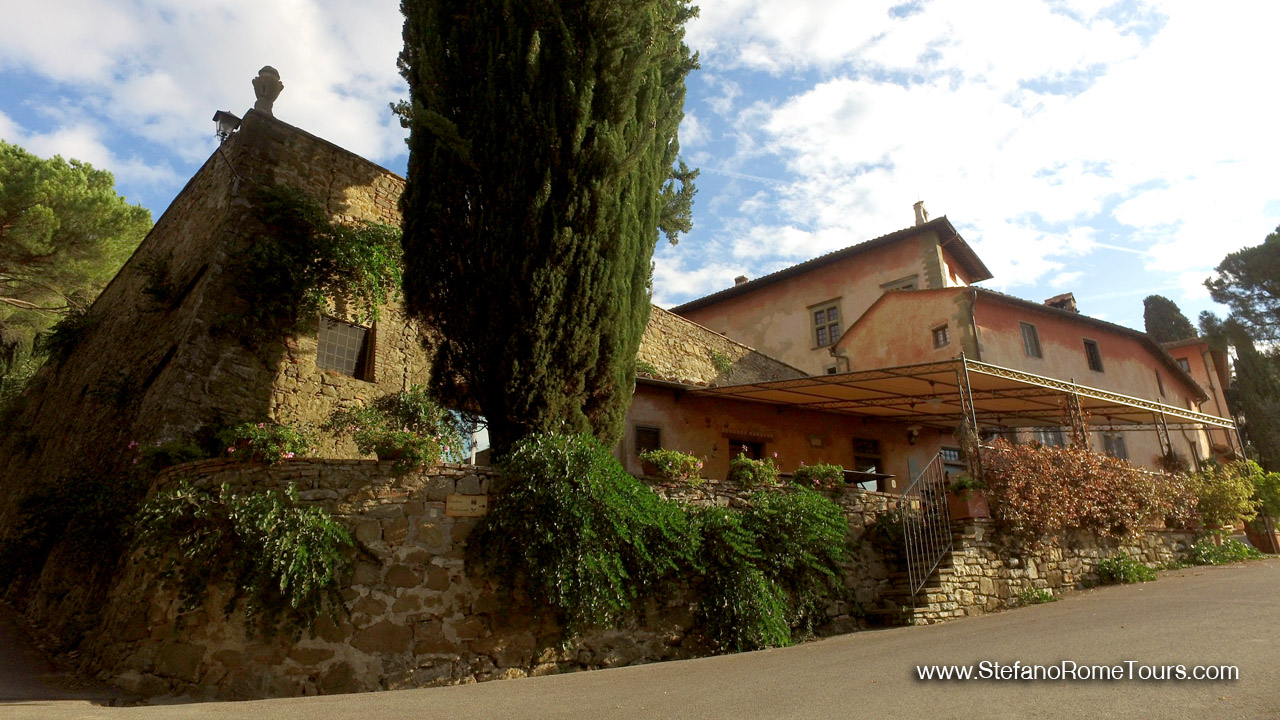 As you take in the enchanting views and savor the flavors, let your imagination wander back in time to 7 centuries ago to a noble family that once lived in this villa and the little girl who was born here in 1479 and grew up to inspire a great artist named Leonardo da Vinci who painted her famous smile that has become the cultural icon known as Mona Lisa.
You might even recognize the beauty of the Tuscan landscape in the famous painting in the views that surround you.
Vignamaggio was also the location of the 1992 film "Much Ado About Nothing".
MONTEFIORALLE


This Chianti fairy tale continues with your next visit to the nearby charming hilltop hamlet of Montefioralle.
This beautifully preserved fortified medieval borgo is unspoiled by tourism and seemingly untouched by time with its fort believed to have belonged to the family of Mona Lisa del Giocondo.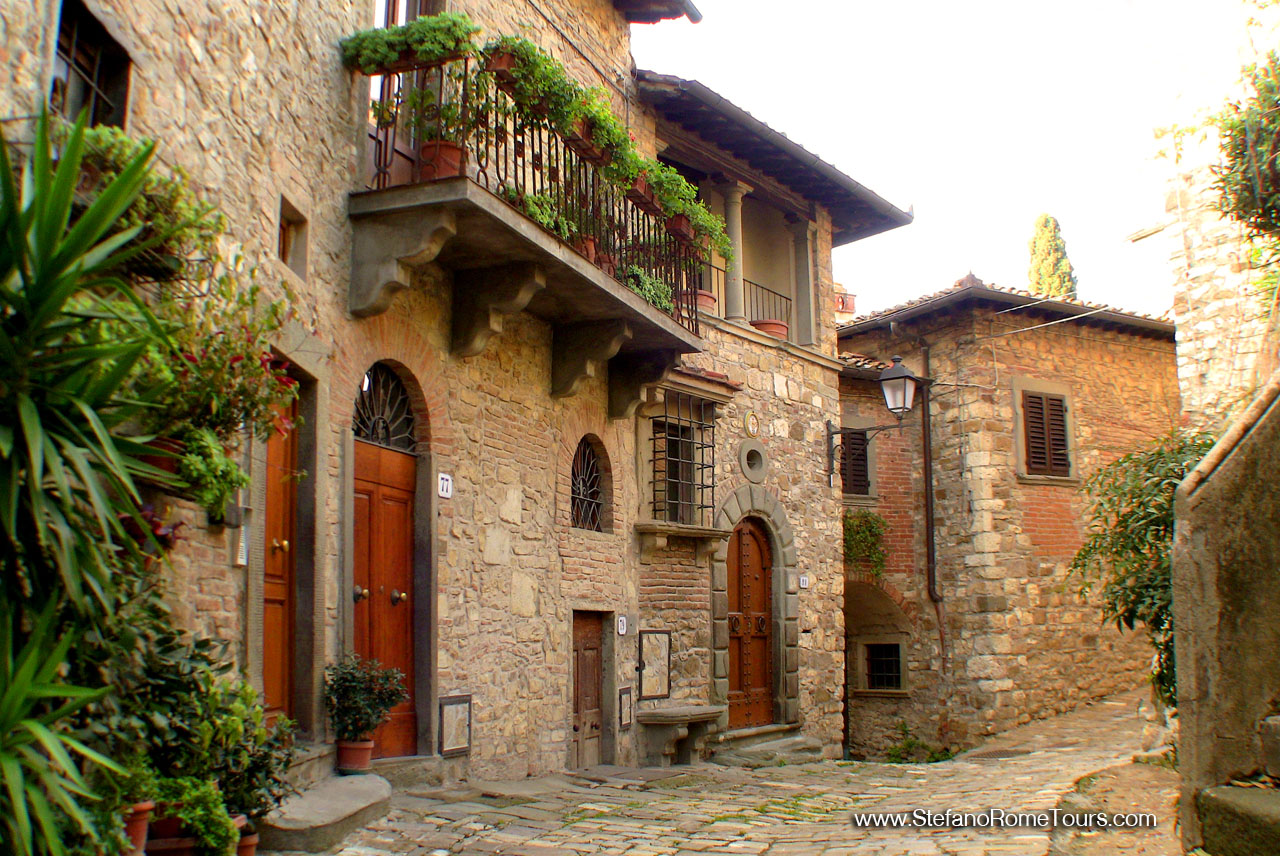 Along these ancient narrow streets once walked two of Italy's most illustrious and captivating historical figures: Leonardo da Vinci whose legendary talents gave us the Mona Lisa painting, and Amerigo Vespucci, the Italian explorer of the New World who is said to have become America's namesake.
This marks the end of your Enchanting Chianti Tour, and you will enjoy a relaxing drive through the countryside of Chianti to your hotel in Florence or your ship in Livorno as you pass through undulating hills lined with patchworks of vineyards, olive groves, and forests...the classics of Chianti.
Thank you for choosing Stefano Rome Tours for your Tuscany Tours and Private Shore Excursions in Italy. We look forward to meeting you and showing you our beautiful Tuscany!


Important Information

Please READ the important information below as well as Read & Accept our TERMS OF SERVICE and Privacy Policy prior to placing your reservation request(s).

PAYMENT OPTIONS for Enchanting Chianti Wine Tour:
Payment for this Enchanting Chianti Tour can be made in Euro funds at the end of your journey directly to your driver, or you may prepay in advance via PayPal or Credit Card during your confirmation process.

CANCELLATION POLICY:
We kindly ask that cancellations be made at least 7 days in advance in writing via E-Mail. Cancellations by phone, text, or 3rd party who is not the person who booked the service are NOT accepted.

** PREPAID SERVICES can only be Refunded the Net Rate we receive from your prepayment. Net Rate is the actual service price minus the fees retained by PayPal/Credit Card that are not reimbursed to us in case of refunds. We can only refund the portion we receive from the PayPal/CC company.
EMAIL INQUIRIES / BOOKING REQUESTS
Please allow up to 24 hours for email correspondences in response to email inquiries and tour reservation requests.
We reply to ALL emails and booking requests we receive. If you don't receive correspondence from us within 24-48 hours please CHECK YOUR SPAM FOLDER, or send us an email from a different E-mail account.
WINERY TOURS & WINE TASTING FEES
* The price for Wine Tasting, Tour and Lunch at Vignamaggio is approximately 60 Euros per person (winery prices can change without notice and are not guaranteed to remain the same).
* Wine Tasting tours must be booked in advance and according to availability at the wineries.
* Wineries are private estates that may close to visitors without notice due to private events or weather conditions.
* When a winery mentioned in the itinerary is not available, it will be replaced with an equally suitable winery.
* Please taste wine responsibly. Excess sampling of wine may interfere with your enjoyment of the tour. If you request an early return to your accommodation due effects of wine tasting, you accept the payment responsibility for the full day of the tour as quoted and agreed upon prior to tour date.
YOUR PRIVATE TOUR DRIVER
This tour provides an English-speaking Driver who is NOT a Licensed Tour Guide or sommelier.
* Italy has strict laws and regulations aimed to protect official licensed guides that makes it unlawful for Drivers to act as tour guides or accompany guests to sightsee on foot away from the vehicle. In order for us to comply with Italy's laws, Drivers are required to remain with the vehicle while guests sightsee on their own away from the vehicle.
* On this Enchanting Chianti Wine Tour by car you will SELF TOUR (unaccompanied by your driver) when away from the vehicle.
MEETING POINTS TO MEET YOUR DRIVER
For Tuscany Tours from Florence hotel:

From your hotel, your driver will meet you inside the lobby of your hotel or area permitted by your hotel.
For Apartments or B&Bs without a lobby, your driver will meet you outside the main entrance of your Address.
* If your hotel or accommodation is located on a street or in an area that is restricted to vehicle traffic, your driver will park as close as lawfully possible, and meet you on foot at your Address to accompany you to your parked vehicle.
ENCHANTING CHIANTI TOUR TIPS:
* It is always recommended to wear comfortable shoes on all tours
* You will be surrounded by a lot of natural and architectural beauty, so be sure to bring your camera!