description

CLASSICO CHIANTI WINE TOUR PRICE LIST

TOUR FROM ROME HOTEL
For up to 4 Persons from Rome Hotel: 700 EUROS
For up to 6 Persons from Rome Hotel: 750 EUROS
For up to 8 Persons from Rome Hotel: 800 EUROS

TOUR FROM FLORENCE HOTEL
For up to 4 Persons from Florence Hotel: 700 EUROS
For up to 6 Persons from Florence Hotel: 750 EUROS
For up to 8 Persons from Florence Hotel: 800 EUROS
* DATES on the Booking Form Calendar that are NOT Selectable, are NOT AVAILABLE.


Enjoy a visual journey of our Classical Chianti Tour VIDEO:


Whether you are a sommelier or just enjoy the pleasures of good wine and a spectacular Chianti atmosphere, our exclusive Classico Chianti Wine Tour is created just for you!
You will stroll through the main square of the charming Chianti town of Greve in Chianti, followed by a full Lunch and Wine Tasting Experience at Vignamaggio - the enchanting Renaissance Villa and Winery, and admire the stunning Castello Brolio with its beautiful gardens and spectacular Chianti panorama, followed by more wine tasting.
This tour can be provided from your hotel accommodation in Rome or Florence.
GREVE IN CHIANTI - the "Gateway to Chianti"


Greve in Chianti is considered the gateway to Chianti, and one of the most significant towns in the region.
Once arriving in the main piazza, Piazza Matteotti, you will be greeted by the bronze statue of Giovanni da Verrazzano, the famous local Italian explorer who discovered New York's Hudson Bay in the early 1500's.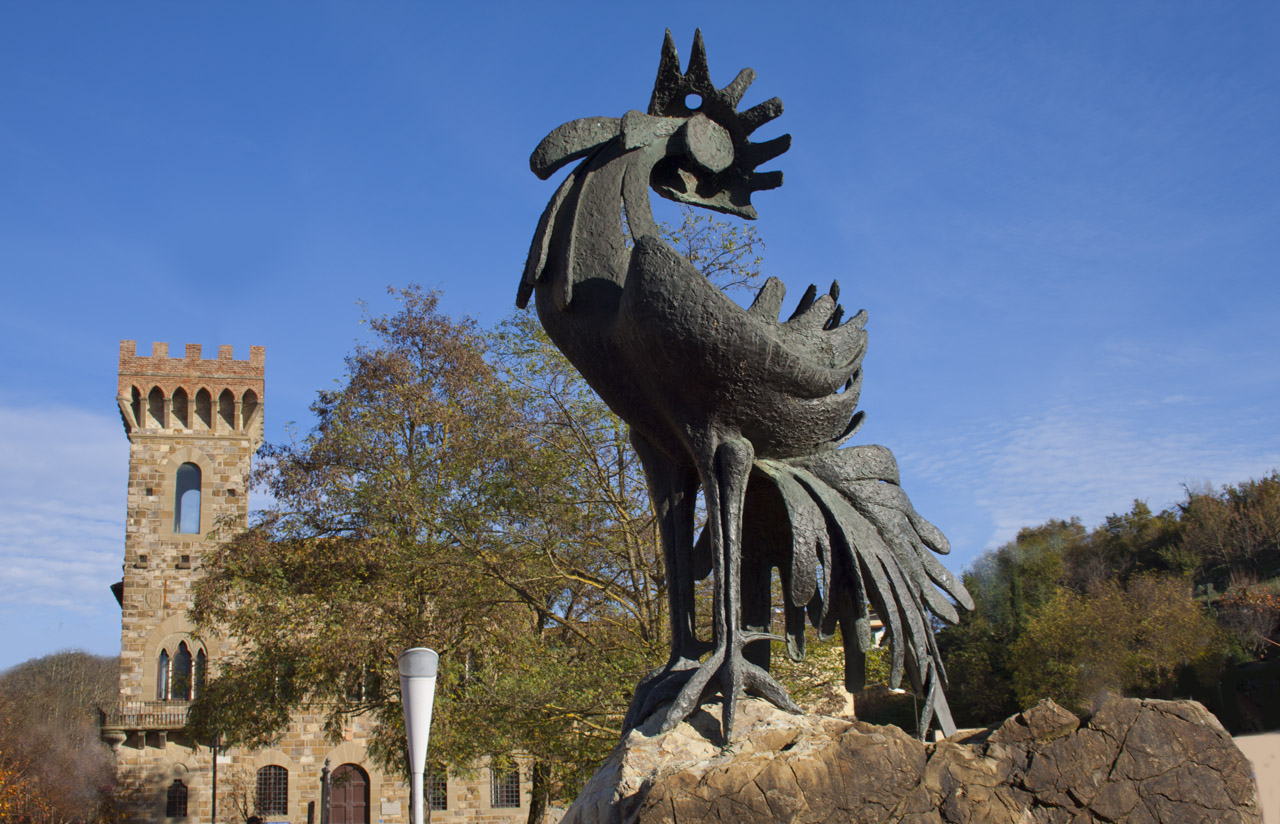 The charming piazza lined with arched galleries makes for a perfect morning stroll with opportunity for a cappuccino at a local coffee shop, shopping at the famous Tuscan butcher Antica Macellaria Falorni that offers the best meats and cheeses in the area since 1729, or any of the local shops that sell locally crafted items and products.
VIGNAMAGGIO VILLA and WINERY


From Greve in Chianti your tour continues to the elegant Renaissance Vignamaggio Villa and Winery.
This magnificent centuries-old winery rests gracefully on the soft slope of a gentle hill surrounded by Italian gardens, cypress trees, and acres of vineyards and olive trees.
Such breathtaking vistas of soft rolling Tuscan hills and valleys can only be imagined to exist on a canvas of a Renaissance painting by Leonardo da Vinci.
In the 14th century this villa was the property of the Gherardini family, a noble Tuscan family into which Mona Lisa was born.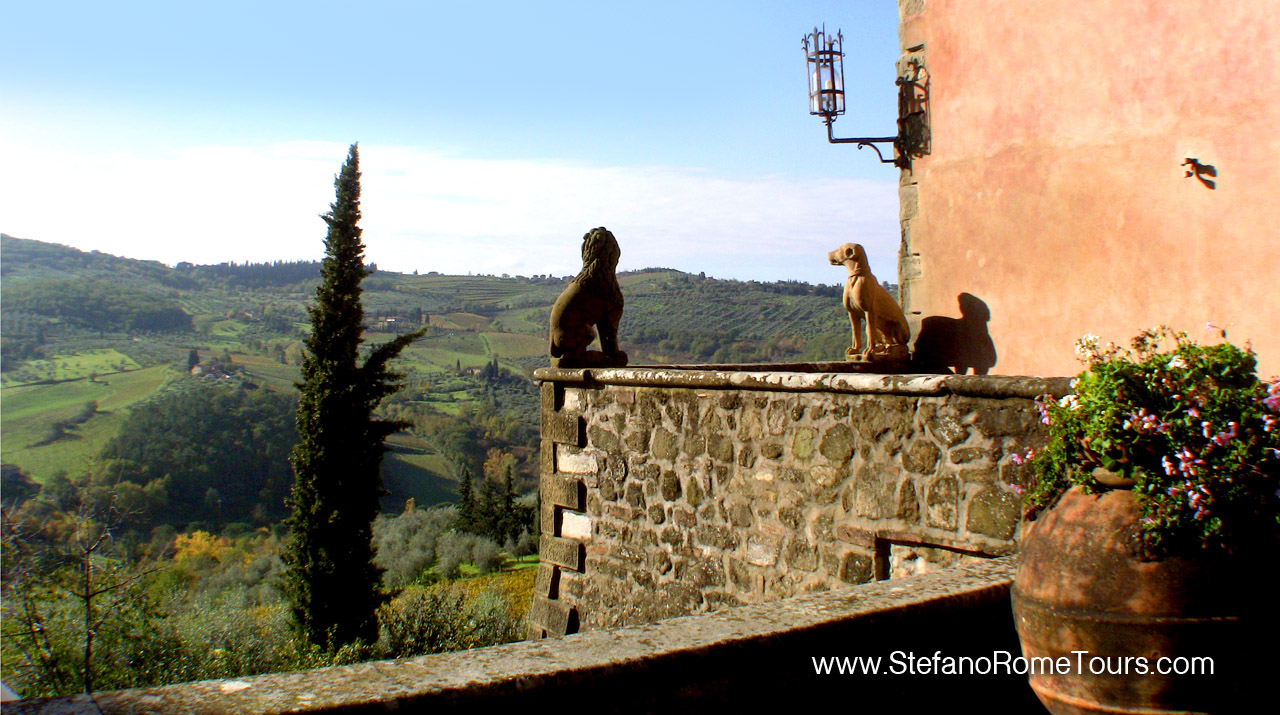 And this young woman with her famous smile captured the imagination of an Italian painter named Leonardo da Vinci who happened to have lived in a nearby hamlet. You might just be looking at the landscape that inspired Leonardo da Vinci when he painted the Mona Lisa painting.
Over the centuries the villa has been renovated and modified, but in the heart of the villa the core of its earliest structure is still preserved along with its rich history. More recently, the award winning 1992 film "Much Ado About Nothing" was filmed here.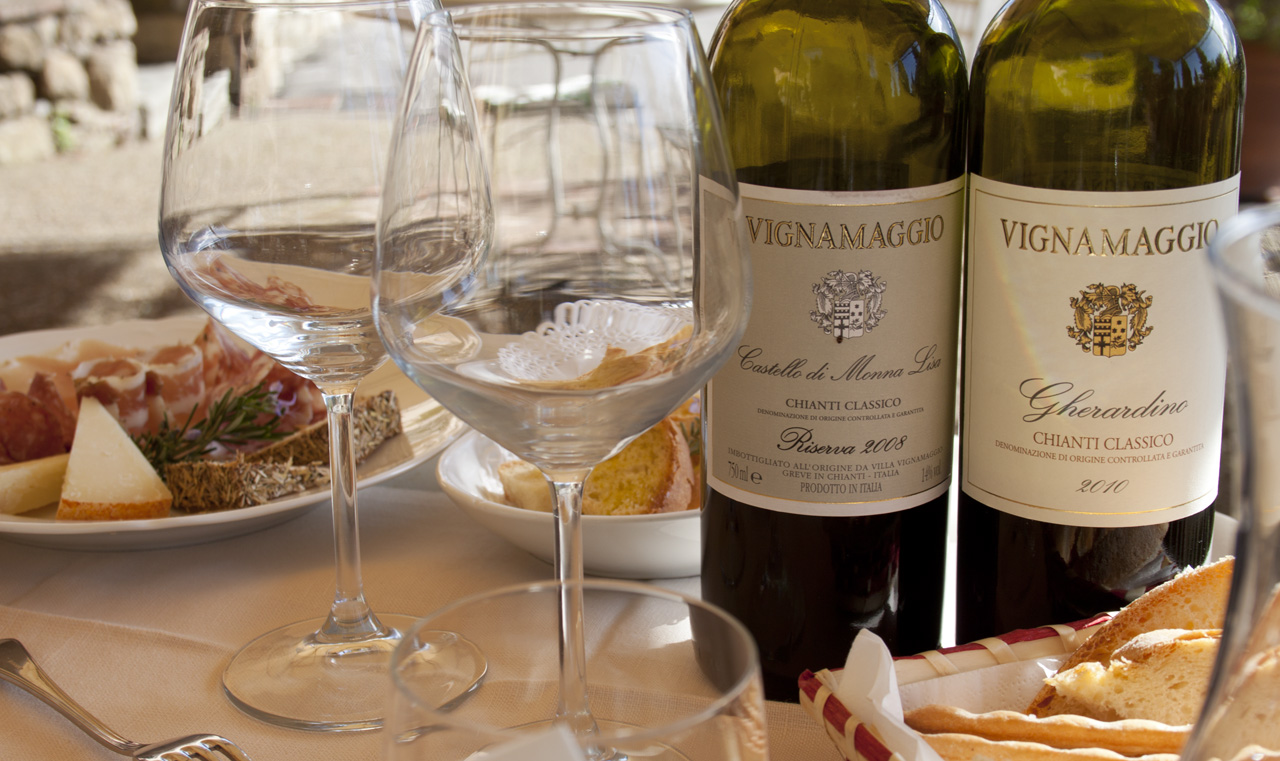 Here at Vignamaggio you will enjoy a delightful Tuscan lunch prepared from fresh local products and wine tasting with a visit to its 7 centuries' old wine cellar that is testament to the longevity of this esteemed winery.
You will enjoy sampling Vignamaggio's own Chianti Classico and Chianti Reserva. We wish to add that Vignamaggio also produces some of the finest olive oil in Tuscany from its own olive orchards.
CASTELLO BROLIO


Your Chianti wine tasting experience continues to another enchanting winery: Castello Brolio owned by the Ricasoli family.
The origins of the castle and the Ricasoli family who owns it date back to the 11th century Medieval Era.
The Ricasoli family have for centuries dedicated themselves to agriculture and vineyards, leading to its most famous family member, the baron and statesman Bettino Ricasoli (aka The Iron Baron).
After much research and experiments in Brolio, Bettino Ricasoli perfected the recipe for Chianti wine in 1872 that successfully competed on international levels and was later canonized in DOC regulations.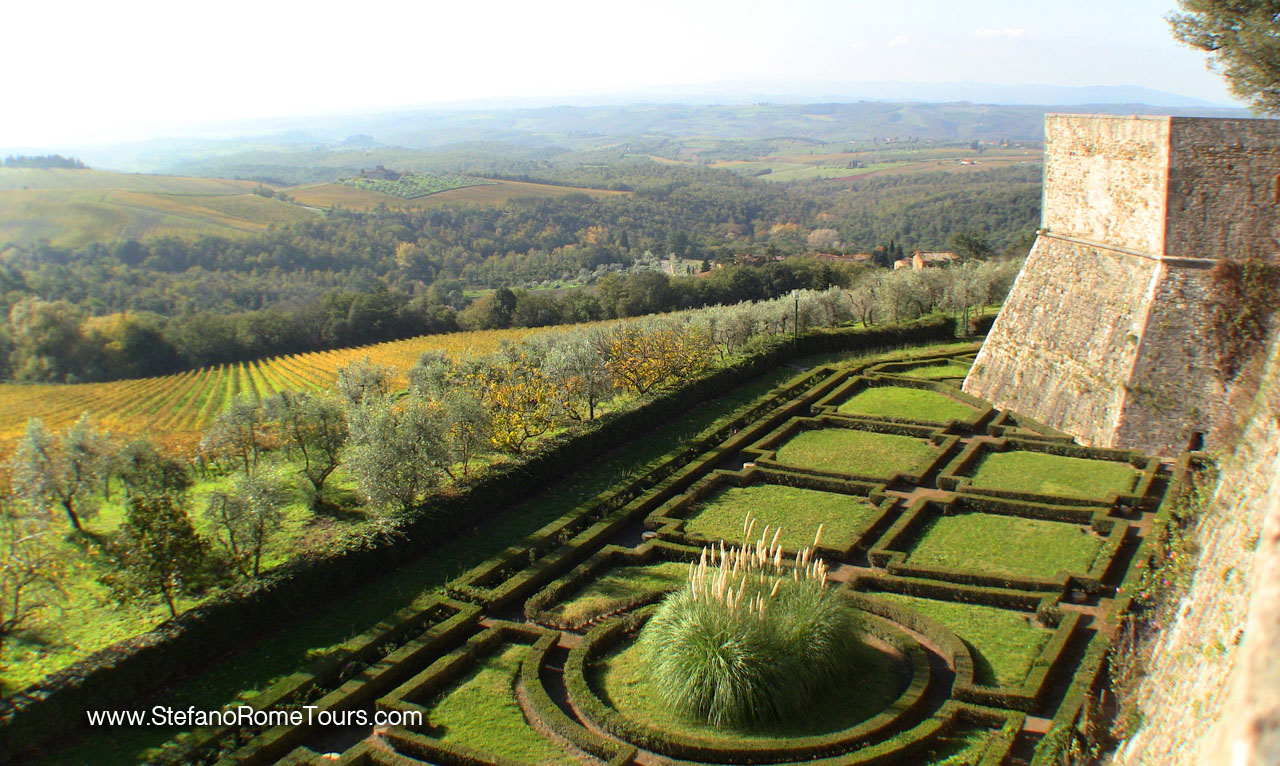 This Renaissance of Italian winemaking translates into a great variety of wines produced by the winery, the longest-lived company in the same location in Italy and 4th oldest in the world.
You will have the opportunity to visit the Brolio Castle grounds including the charming chapel, and admire the well manicured gardens surrounded by nearly 600 acres of vineyards that sprawl across the characteristically charming Chianti landscape.
The castle is unique in that it resembles the different eras in which it has been rebuilt and modified due to multiple destruction during historic battles and WWII bombings.
You will notice medieval fortified bastions, Romanesque and neo-Gothic enhancements, and 19th century Tuscan touches. Castello Brolio is a private residence, therefore visits inside the castle are not possible.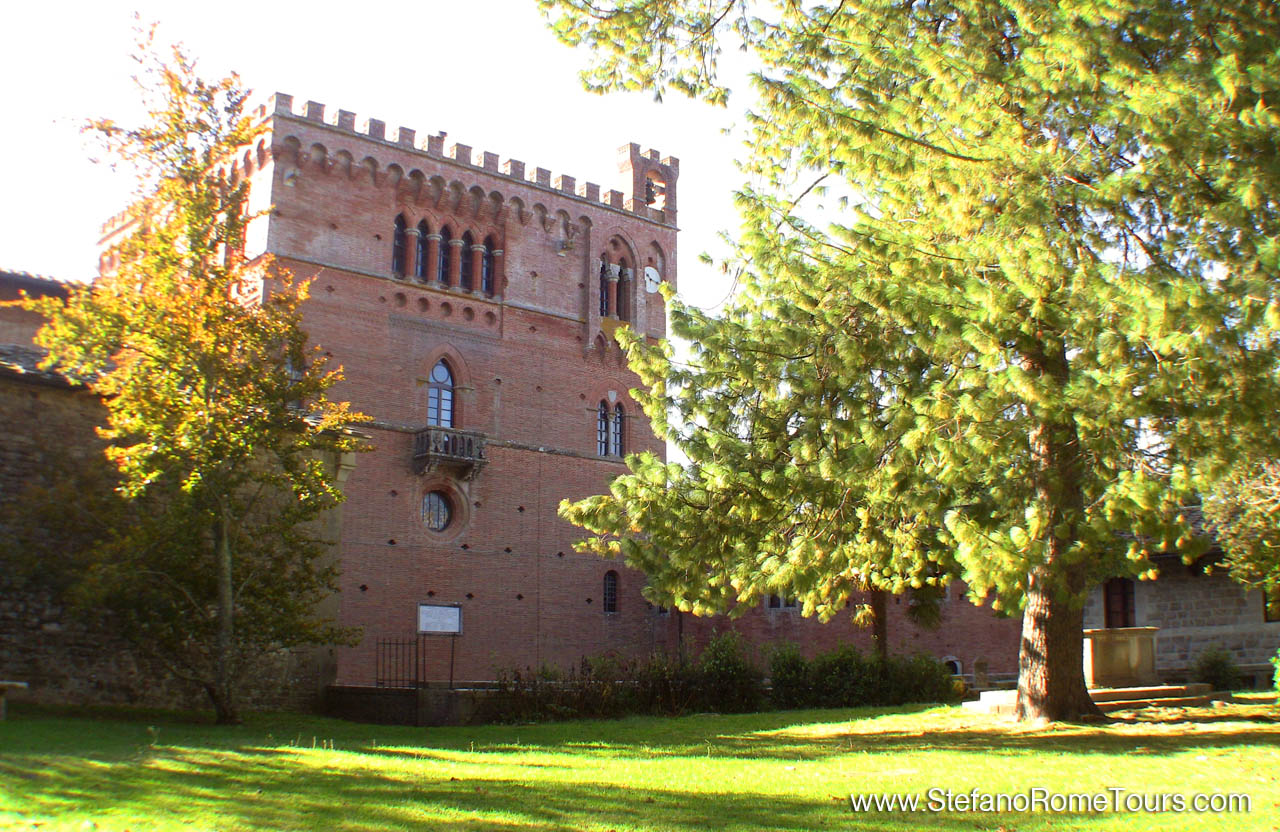 Wine tasting at the nearby wine shop (enoteca) will follow. The choice of wines is vast....from the red Chianti Classico and DOCG Riserva variety to the white Torricella, Vinsanto and the delightfully sweet Granello.
Your Classic Chianti Wine Tour comes to an end. From here you will enjoy a comfortable drive through the countryside and to your accommodation.
Thank you for choosing Stefano Rome Tours for your Rome and Florence Day Tours and Italy private excursions. We look forward to meeting you and showing you our beautiful Italy!
Important Information

Please READ the important information below as well as Read & Accept our TERMS OF SERVICE and Privacy Policy prior to placing your reservation request(s).
PAYMENT OPTIONS for Classico Chianti Wine Tour:
Payment can be made in Euro funds at the end of your journey directly to your driver, or you may prepay in advance via PayPal or Credit Card online when you Confirm your Tour.
CANCELLATION POLICY:
We kindly ask that cancellations be made at least 7 days in advance in writing via E-Mail. Cancellations by phone, text, or 3rd party who is not the person who booked the service are NOT accepted.

** PREPAID SERVICES can only be Refunded the Net Rate we receive from your prepayment. Net Rate is the actual service price minus the fees retained by PayPal/Credit Card that are not reimbursed to us in case of refunds. We can only refund the portion we receive from the PayPal/CC company.
EMAIL INQUIRIES / BOOKING REQUESTS

Please allow up to 24 hours for email correspondences in response to email inquiries and tour reservation requests.
We reply to ALL emails and booking requests we receive. If you don't receive correspondence from us within 24-48 hours please CHECK YOUR SPAM FOLDER, or send us an email from a different E-mail account.
WINERY TOURS & WINE TASTING FEES:

* The price for Wine Tasting, Tour and Lunch at Vignamaggio is currently 59 Euros per person (winery prices can change without notice).
Please let us know in the special request box that you wish for us to reserve this for you in advance as it's possible only upon availability with advance reservation.
* Wine Tasting tours must be booked in advance and according to availability at the wineries.
* There is an approximate 5 Euro fee to visit the exterior of Castello Brolio and its gardens, and each entry ticket includes 1 complimentary wine sample of your choice. Additional wine tasting available at added fee. Winery prices are subject to change.
* Wineries are private estates that may close to visitors without notice due to private events or weather conditions.
* When a winery mentioned in the itinerary is not available, it will be replaced with an equally suitable winery.
* Please taste wine responsibly. Excess sampling of wine may interfere with your enjoyment of the tour. If you request an early return to your accommodation due effects of wine tasting, you accept the payment responsibility for the full day of the tour as quoted and agreed upon prior to your tour date.

YOUR STEFANO ROME TOURS DRIVER
This tour provides an English speaking Driver who is NOT a Licensed Tour Guide or sommelier.
* Italy has strict laws and regulations aimed to protect official licensed guides that make it unlawful for Drivers to act as tour guides or accompany guests to sightsee on foot away from the vehicle. In order for us to comply with Italy's laws, Drivers are required to remain with the vehicle while guests sightsee on their own away from the vehicle.
* On this Classico Chianti Wine Tour by car you will SELF TOUR (unaccompanied by your driver) when away from the vehicle.

MEETING POINT to meet your Driver at your Hotel Accommodation:


From your hotel, your driver will meet you inside the lobby of your hotel or area permitted by your hotel.
For Apartments or B&B's without a lobby, your driver will meet you outside the main entrance of your Address.
* If your hotel or accommodation is located on a street or in an area that is restricted to vehicle traffic, your driver will park as close as lawfully possible, and meet you on foot at your Address to accompany you to your parked vehicle.
CLASSICO CHIANTI TOUR TIPS:
It is always recommended to wear comfortable shoes on all tours
You will be surrounded by a lot of natural and architectural beauty, so be sure to bring your camera!
For a Wine Tasting Experience at Vignamaggio, please let us know in the special request box when you book this tour that you wish for us to reserve their Wine Tasting, Tour, and Lunch at 59 Euros per person as this service must be reserved in advance.