description

Buongiorno and welcome to Stefano Rome Tours! We are pleased to offer long-distance non-stop private transfers between Italy's major cities, as well as other driver services and Italy limo tours.
This long-distance transfer is possible with the following hotel pick-up and drop-off options:
- Private Transfer from Rome to Tuscania / from Tuscania to Rome
- Private Transfer from Fiumicino Airport to Tuscania / from Tuscania to Fiumicino Airport
- Private Transfer from Ciampino Airport to Tuscania / from Tuscania to Ciampino Airport

Rome - Tuscania Transfer Price List


For up to 2 Persons from Hotel: 190 EUROS
For up to 4 Persons from Hotel: 200 EUROS
For up to 6 Persons from Hotel: 220 EUROS
For up to 8 Persons from Hotel: 250 EUROS
Fiumicino Airport - Tuscania Transfer Price List


For up to 2 Persons from Hotel: 250 EUROS
For up to 4 Persons from Hotel: 270 EUROS
For up to 6 Persons from Hotel: 290 EUROS
For up to 8 Persons from Hotel: 350 EUROS


* Listed Prices are for Daytime Services Booked and Provided between 7:00 AM - 7:00 PM.
** Night Time services 7 PM - 7 AM are 30 EUROS EXTRA

** The Listed Price is for a 1 Way Direct Transfer. It does not include sightseeing, unscheduled stops, or round-trip service.

On our private transfers between Rome and Tuscania, you will enjoy a comfortable relaxing journey through the Italian countryside in your private deluxe vehicle and Private Driver.
With our Private Transfer service, you will be well taken care of from your pick up to your drop off. You will not need to worry about train tickets, train schedules, getting to and from train stations, relying on additional public transportation or unpredictable taxis, finding your own way to your arrival hotel or carrying your luggage from place to place.
Our luxurious and safe private transfers are ideal for families with children, senior travelers, travelers with mobility issues, and discerning travelers who wish to travel through Italy effortlessly and worry-free.
When you book your Rome to or from Tuscania transfer with us, your luggage will travel with you inside your vehicle's luggage compartment so your journey will be easy, fun, and effortless.

Transfers from Ciampino, Fiumicino Airport to Tuscania
If you are flying into Fiumicino Airport (or Ciampino Airport) and staying in Tuscania, you can count on us to provide quality reliable transfers from Ciampino Airport or Fiumicino Airport to Tuscania, and from Tuscania to Fiumicino Airport or Ciampino Airport.

Rest assured your private driver will meet you at the airport and take you directly to your hotel accommodation in Tuscania for an easy, comfortable and efficient transfer service.
For departures, your private driver will pick you up at your hotel or accommodation in Tuscania and take you directly to Fiumicino Airport (or Ciampino Airport) for your flight departure.
When you choose us for your long-distance transfers in Italy, you will never have to wonder how to get from Rome (or Rome's Airports) to your hotel. All you have to do is book your transfer online, and we will take care of getting you to where you need to go
Transfers to San Giusto Abbey in Tuscania
Traveling to San Giusto Abbey in Tuscania? This splendid 12th-century Medieval Cistercian abbey is situated in one of the most unique settings in the Italian countryside surrounded by olive groves and lavender fields boasting splendid countryside views.
Today, it's an eco-friendly organic farm renowned for producing fine essential oils and welcomes travelers who love nature, architecture, and history. It is also a chosen location for events, seminars, and weddings. We offer private limo service in elegant Mercedes vehicles for events in Tuscania, as well as transportation to and from San Giusto Abbey. Please inquire about rates for special events and customized private driver services.
CUSTOMIZABLE DRIVER SERVICES AND TOURS FROM TUSCANIA


Customizable Driver Services from Tuscania
Long Distance transfers between Tuscania and other major cities in central Italy,
Exclusive Day Tours from Tuscania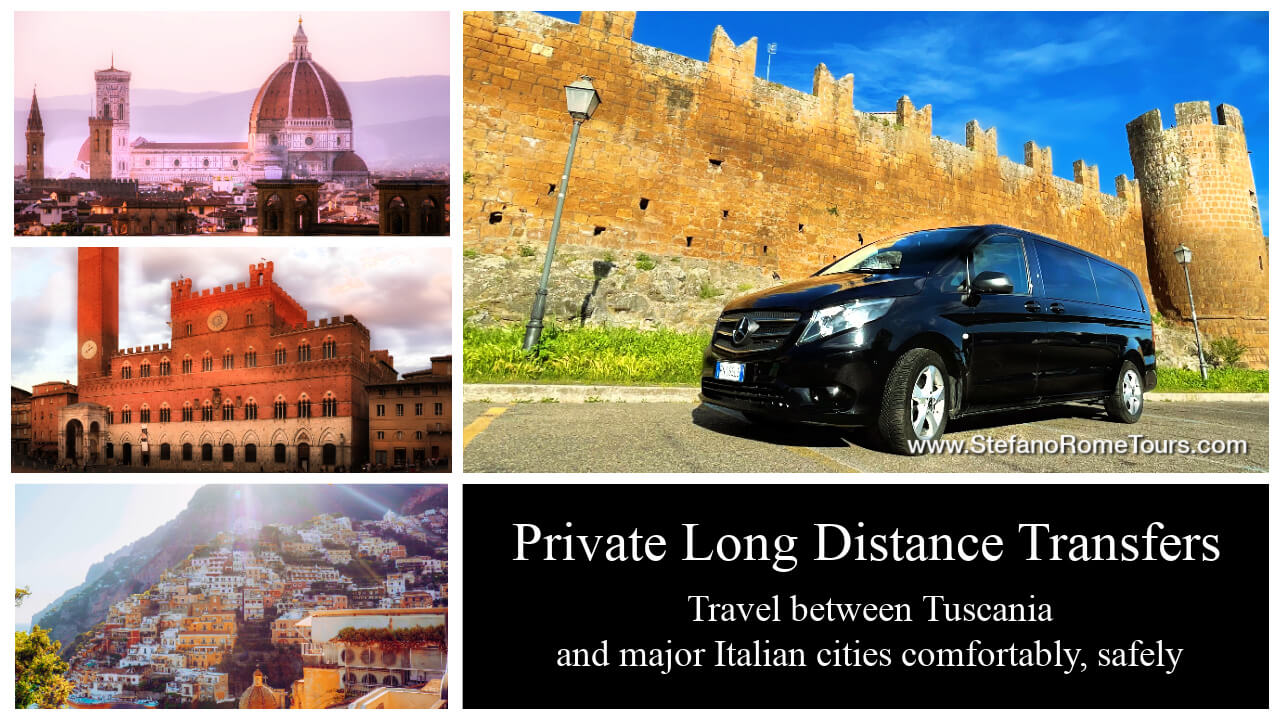 - DRIVER SERVICES FROM TUSCANIA -

We are also pleased to offer private Driver Service from Tuscania for our guests who wish to venture out for some shopping, visit nearby towns, or enjoy wine tasting without having to drive. You can count on us to provide you with private driver services for all your needs.
Your Private Driver will be at your service to offer guidance and assistance throughout our service.
- Transfers to / from Tuscania and other Cities in Italy -

If your Italy trip includes stays in various towns and cities, we are also pleased to provide Long Range Transfers to and from Tuscania and other cities and towns in central Italy.
Our private transfer services with a courteous personal Driver will make your journeys in Italy comfortable, safe, and convenient.
- Sightseeing Transfers to / from Tuscania -

If you wish to maximize your sightseeing opportunities on your long-distance transfers between Tuscania and other cities such as Rome, Civitavecchia, Florence, or Siena, you may enjoy stops at various Italian towns, villages or places of interest, and turn your long-distance transfer into an exciting day of discoveries and exploration.
Simply send us an email and our expert staff will be happy to assist with an itinerary that would best fit in your journey.



- DAY TOURS FROM TUSCANIA -

Stefano Rome Tours are tour experts with more than 15 years of experience providing private tours by car (limo tours) in Italy.
If you wish to explore the magic of Tuscany, the splendor of Umbria, or the wonders of Rome and the Roman Countryside please send us an email with your request and our Italy Tour Specialists will be delighted to assist with planning Day Trips and Day Tours from Tuscania.
Our Italy tours are always private and customizable to our clients' preferences, provided in comfortable deluxe air-conditioned vehicles with English-speaking Private Drivers at your service.
Thank you for choosing Stefano Rome Tours for your transfers and tours. You can rely on our private driver services and tours for a comfortable, convenient, safe, and professional service each and every time
Important Information
Please READ the important information below as well as Read & Accept our TERMS OF SERVICE and Privacy Policy prior to placing your reservation request(s).
PAYMENT OPTIONS:
Payment can be made in Euro funds at the end of your journey directly to your driver, or you may prepay in advance via PayPal or Credit Card online when you Confirm your Service.


CANCELLATION POLICY:
We kindly ask that cancellations be made at least 7 days in advance so we can rebook your service and your reserved driver does not lose work for that day. We thank you for your cooperation and consideration.

** PREPAID SERVICES can only be Refunded the Net Rate we receive from your prepayment. Net Rate is the actual service price minus the fees retained by PayPal/Credit Card that are not reimbursed to us in case of refunds. We can only refund the portion we receive from the PayPal/CC company.
EMAIL INQUIRIES / BOOKING REQUESTS
Please allow up to 24 hours for email correspondence in response to email inquiries and tour reservation requests.
We reply to ALL emails and booking requests we receive. If you don't receive correspondence from us within 24-48 hours please CHECK YOUR SPAM FOLDER, or send us an email from a different E-mail account.


HOW TO MEET YOUR DRIVER - at Rome or Tuscania Hotels, Apartments
For hotel pick up your driver will meet you inside your hotel lobby, or area permitted by your hotel.
Your driver will meet you at your address outside the main entrance for guests requiring a pick up from Private Apartments or Accommodations without a lobby.
* If your Rome or Tuscania hotel / accommodation is situated on a street or in an area restricted to vehicle traffic, your driver will park the vehicle as close as lawfully possible.
For Pick Up, your driver will meet you on foot at your address and accompany you to your parked vehicle.
For Drop Off, your driver will assist you on foot from the parked vehicle to your hotel accommodation address.
*** Door to Door service may not be possible on streets or squares restricted to traffic flow or stops.
AIRPORT MEETING POINTS to Meet your Driver
For transfers from FCO/ Fiumicino Airport or Ciampino Airports to Tuscania, you will receive detailed instructions on where to Meet Your Driver at the respective airports.


LUGGAGE:
Please inform us in your reservation (message box) of the total luggage you anticipate bringing (large check-in suitcases and small carry-on cases) so we can provide you with a suitable vehicle to safely accommodate all passengers and their luggage.
If you are a party of 1-2 persons and your luggage exceeds the capacity of a sedan-type vehicle (2 suitcases and 2 carryons), an upgrade to a minivan at additional cost may be required.
The luggage capacity for a minivan for up to 8 passengers is up to 6 suitcases and up to 6 carry-on cases in TOTAL.